PSG's play was bewilderingly brilliant, but Celtic have grounds for concern

By Tom English
BBC Scotland
Last updated on .From the section Football46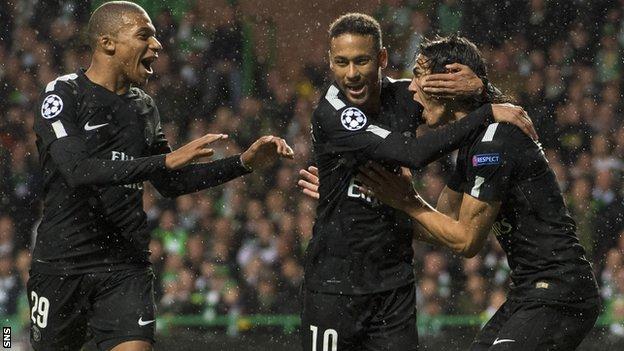 When the lone moron ran on to the pitch at Celtic Park in an attempt to assault Kylian Mbappe on Tuesday, a couple of thoughts occurred. Firstly, how on earth was he allowed to get so close to the Paris St-Germain superstar - where were the stewards? - and secondly, what will Uefa make of it?
European football's governing body moves in mysterious ways. They deliver fines for flares, even greater fines for political banners, but their idea of consistency is hard to read.
This time last year, in a Champions League game in Russia between Rostov and PSV Eindhoven, a supporter in the home crowed hurled a banana in the direction of the Dutch full-back Jetro Willems, who's black.
Rostov previously had part of their stadium closed because of racist chanting among their fans. For the banana? Nothing. A clear incident of racism was dismissed while other clubs were getting financially carpeted for offences that were, by comparison, miniscule.
Because of the actions of one guy - roundly booed by the Celtic supporters in the aftermath - the club is probably in a new kind of trouble. We say 'probably' because you can never quite tell with Uefa, which has charged Celtic for the incident with a disciplinary hearing to take place on 19 October.
Given Celtic have received 12 sanctions over the past six years, there will surely come a time when Uefa say enough is enough and go beyond a fine into the realms of part-closure of the stadium.
For all the commendable reaction of their support in booing this wretched solo run, this is serious stuff for Celtic - or it ought to be. We'll wait to see what kind of punishment is handed down this time. Meanwhile, there is a team to marvel at.
PSG were bewilderingly brilliant at Celtic Park, but for all the accuracy, imagination and goals they delivered in what was possibly the most complete performance by a visiting European side - one of the passages of play that captured them best happened not in or around Celtic's penalty box, but deep inside their own area with green and white shirts buzzing around them.
It was the 13th minute and PSG pulled off an exit strategy that brought momentary ripples of applause - and the odd gasp - from the home crowd. Playing passing triangles in attack is one thing, but doing so close to your own six-yard area is quite another.
This was confidence, control and technique in one glorious package. PSG weren't content to get rid of the ball. They were determined to look after it.
They passed and passed and passed and worked their way out of a tight spot. In a football world that can be so ugly at times, this was beautiful. Up in the commentary box for BBC Scotland, Owen Coyle and Scott McDonald were open-mouthed, seasoned football men reacting with all the thrill of young kids. They were far from alone.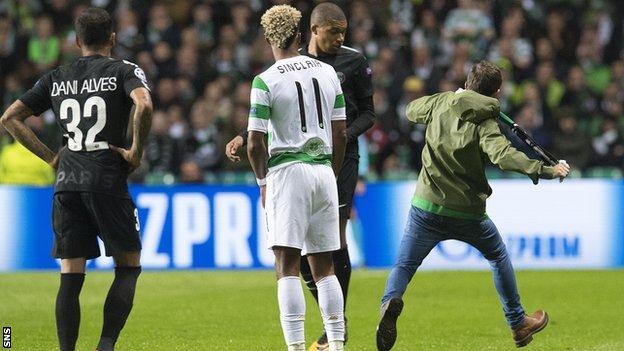 The ball-in-play time on Tuesday was 69 minutes and 17 seconds. None of the other Champions League games matched that. Five of the other seven games came in at around 62 minutes of actual play. Bayern Munich's 3-0 defeat of Anderlecht in Celtic's group had less than an hour of active football.
If not physically, Celtic were mentally exhausted before the end. Save for a 20-minute spell at the start of the second half, when they took a breather, PSG were relentless, playing at a pace and with an ambition that was by turns thrilling and terrifying.
They're entitled to be exceptional, of course. Half a billion pounds gives you quite the start down the road to excellence.
Teams of this quality relish the atmosphere at Celtic Park. So much is rightly made of the vibe inside the place - French journalists wrote pieces and made mini-documentaries about it when previewing the game - but the reality is this: in group action against the elite, as opposed to qualifiers against the lesser lights, Celtic haven't won any of their past nine home European ties going back three years.
They've drawn three and lost six, they've scored 11 and have conceded 24. Albeit against PSG, Barcelona and Borussia Monchengladbach, Celtic have not scored at home in their past three Champions League group games.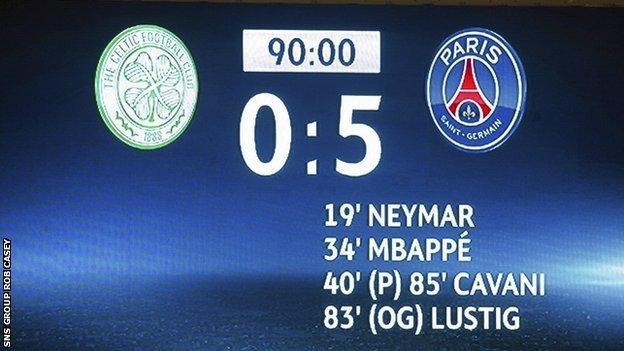 Even allowing for PSG's brilliance, Celtic were poor. Brendan Rodgers' comment about them playing like an under-12 side in the first half was very un-Rodgers like. He didn't even come close to saying anything like as cutting when Celtic went down 7-0 to Barcelona last year. It was an illustration of his disappointment - and probably his shock.
They lacked aggression, their passing was panicked, their demeanour was that of men who were overawed by their illustrious visitors. They won't be the last team to feel like that this season.
PSG's movement in attack was spectacular, but they were helped by defending that was hellish on occasion. A recurring theme of the last few months has been Celtic's weakness at centre-half.
They've been unlucky with injury, for sure. They've tried a number of combinations and still Rodgers tinkers with it. He had an 18-year-old, in Anthony Ralston, marking Neymar. Ralston has had four starts for Celtic. The youngster had to play because Mikael Lustig, a full-back, was needed at centre-half. Rodgers' other available options as centre-half partner for Jozo Simunovic were Nir Bitton, a midfielder, and 19-year-old Kristoffer Ajer.
It's fair to say that Celtic could have spent £10m on a centre-half in the transfer window and they could still have lost 5-0. PSG are not the point, though. Anderlecht are.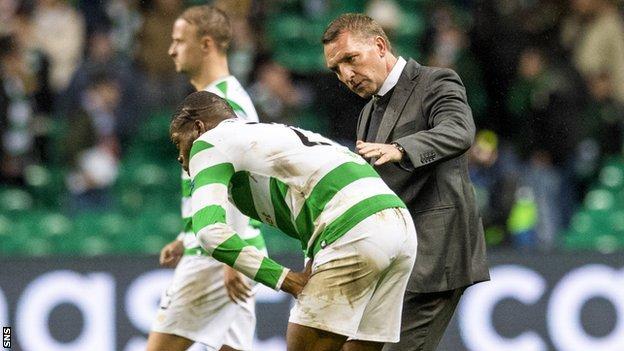 The Belgian side are doughty but beatable and Celtic play them next in Brussels. In Munich on Tuesday, Anderlecht had a player sent off after 11 minutes. That red card cost them a penalty, which made it 1-0. Bayern had to wait 65 minutes for their second goal and 90 minutes for their third.
Celtic's two games against Anderlecht could be seen as akin to a play-off for the Europa League post-Christmas. That's the only pressure that Rodgers is under in all of this - to be seen to be making progress in Europe.
If he achieves it then little more will be said about why he didn't bring in another experienced centre-half. It'll be a different story if a lack of an established centre-half costs them against Anderlecht. They're no PSG, but they're good enough to beat Celtic if the Scottish champions aren't right on the night.
In the Champions League's rarefied air, feel-good can turn to feel-bad very quickly. Celtic are thrilled to be there, but it's a brutal world. They showed last season they can learn the lessons and get good results on the road after experiencing turmoil. It's been five years since they won a group match away, a run of 13 games, including six draws.
A draw would be a decent result. Brussels, with its storied parliament, has a reputation for stalemates. Celtic, in their one-to-one battle with the Belgians, would settle for another in a fortnight.