North Korea: Bengaluru FC's Erik Paartalu on missile launches, lost baggage and Kim Jong-un memes
Last updated on .From the section Football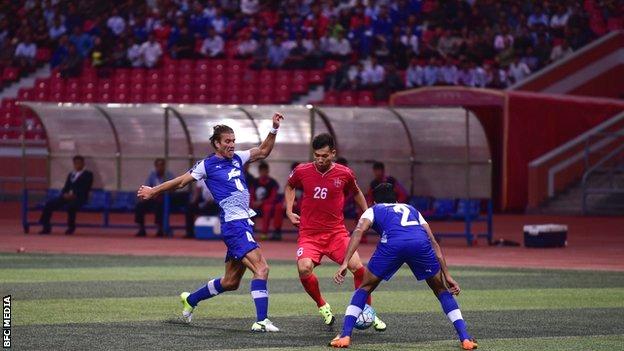 A trip to the world's most secretive state while it is in the midst of a tense stand off with a world superpower featuring the rhetoric of nuclear war - well, it's not a footballer's average away day.
Indian Super League side Bengaluru FC travelled to North Korea last week to play Pyongyang's 4.25 SC in the AFC Cup, Asia's version of the Europa League.
Aside from the game, they had to contend with lost baggage, worries over their memes about Supreme Leader Kim Jong-un being discovered, and the country's latest missile test.
BBC Sport spoke to their former Australia midfielder Erik Paartalu about the eye-opening trip.
"The last day of our visit there was a missile getting fired off over our hotel room, you can't exactly prepare for something like that," he said.
'A step into the unknown'

Bengaluru held a 3-0 lead from the home first leg of the AFC Cup Inter Zone semi-finals.
Paartalu, 31, said he was "apprehensive" about the second leg at the 150,000-seater May Day stadium, which they drew 0-0 to reach the final.
The former Gretna and Greenock Morton midfielder was vocal on social media, asking whether it was safe to make the journey, but the AFC (Asian Football Confederation) sent an advanced delegation to the country who said the situation was safe.
"It is one thing going to play somewhere where there may be a war going on, or is an unstable area, but North Korea is a different kettle of fish," said Paartalu.
"The Australian government had put out a warning urging people not to travel to North Korea, there was no consular or embassy there and there was the threat of a nuclear war."
He added: "Once we arrived it was business, before we left, we were stepping into unknown."
The team travelled to Mumbai, then to Beijing and into Pyongyang, arriving just 48 hours before the game, because of a public holiday in the country.
Lost bags and immigrations worries


"Once we arrived it was a complete eye opener," said Paartalu, who has also played for teams in China, Qatar and Korea, and back home in Australia with Melbourne City and Brisbane Roar.
"Everything you see and hear on the news is different to what you see first hand. It was a bit surreal landing in an almost empty airport.
"It was an international airport, but just one plane was landing. There was confusion with our bags and we had to spend two hours there. In that time, all the shop staff and immigration staff clocked off and all the lights went out. We were inside the airport all alone."
The team had to hand in their mobile phones and tablets for their photographs to be checked, while their bags were also searched and they were told to be careful what they photographed while in North Korea.
"The funny thing was a few North Korea memes had been sent around in the group Whatsapp, poking fun at Kim Jong-un. Before we left we had told everyone to delete the messages, we were all sitting there waiting for someone to get caught.
"I was hoping they didn't have Twitter, I had joked about meeting Kim for a drink."
Many of the team's bags - including kits, boots and balls - were lost in transit. It led to some players having to buy boots from a seller at the hotel, who Paartalu says was charging US$150-200 for "fake boots".
He added: "We had no boots, training kits or balls for the first training session. The boots we bought were cheap quality, some were the wrong size. It was not what you expected from a professional environment. When we got back to the hotel from the first training session, everything was suddenly there."
'You question what is real'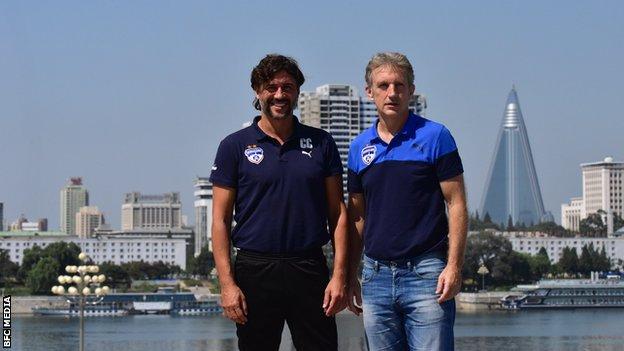 The players had no phone access during their visit and could not use the internet.
"We arrived at the hotel around dusk, we wondered why all the street lights were not coming on," he said. "Someone told us it was to stop anyone viewing Pyongyang via satellite."
Paartalu, who has two Australia caps, continued: "The first time we got to the hotel it was like any other in the world, but there was a TV in the lobby, with a loop of Kim Jong-un. The propaganda starts as soon as you walk in.
"You get a sense that what you are seeing is a watered down version, what they want you to see. You question that all the time, 'is this real?' There were posters the size of houses everywhere of Kim Jong-un's father and grandfather. Everyone is very patriotic.
"Pyongyang has a population of 2.6 million, you wonder what the other 23 million are doing outside the capital."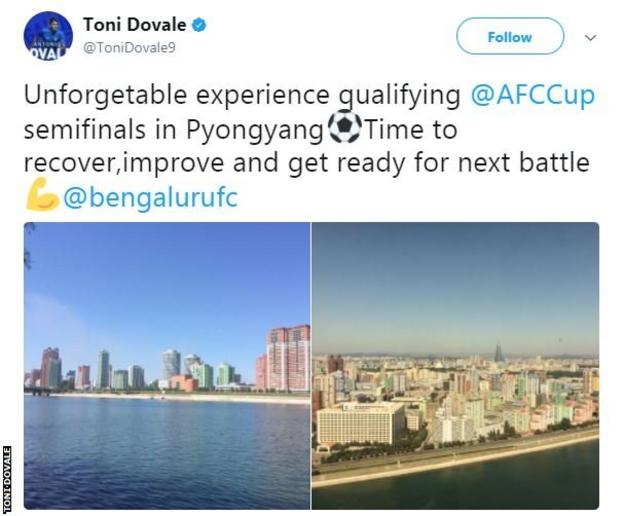 The team could not leave the hotel without a chaperone and had guides with them at every step.
"The people were very friendly. Everyone had to wear a pin badge with the country's flag or a picture of the ruling family," he added.
"If they looked at you and you stared back, they would look away quickly, like they realised they should not be looking. The kids would stare, asking their friends who we were.
"There was not much interaction, but if you said hello they said hello back and smiled, that was the big eye-opener, they responded."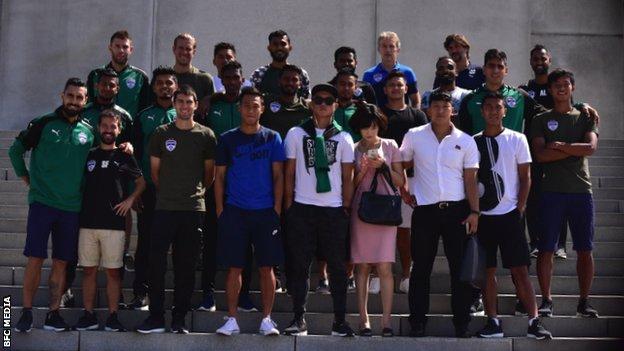 The game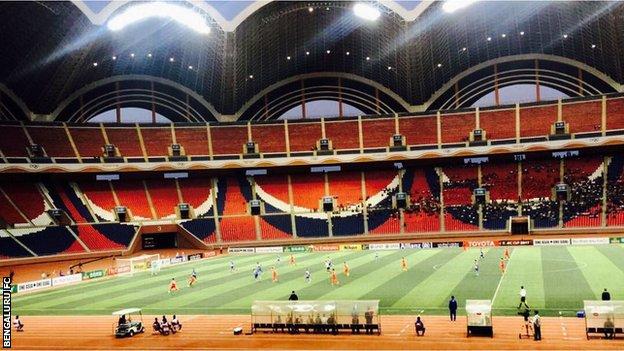 The game was played in the vast May Day Stadium, but Paartalu estimates only 8-9,000 fans turned out to see their team, which includes a number of North Korean internationals.
"The stadium was humongous, if it had been full it would have been intimidating, but not with 9,000 fans.
"During the warm-up the atmosphere was loud and boisterous," he said. "There were a couple of hundred kids in red tracksuits clapping and cheering, all choreographed perfectly.
"But when the game started there was silence, it was not like a UK crowd, but they clearly understood a bit about football, they just expressed their passion in a different way.
"They had two penalty claims and there were a few murmurings from the crowd. When their striker got subbed late in the second half I heard them clap, apparently they don't like him.
"We just focused on what we were doing, they attacked and we defended, we just wanted to get a result. They were very dominant and the better team in the second leg. North Korean football is extremely strong, we saw first hand that 4.25 had all the facilities in the world, they train like absolute machines and will always be a strong nation.
"It did go through my head, 'what happens to us if we win?' The boys were joking that if we score we shouldn't celebrate, or if we are three nil up to cool it, but it finished a respectable 0-0. I guess for the majority of fans in the stadium it was a draw, they may not even have known what happened in the first leg."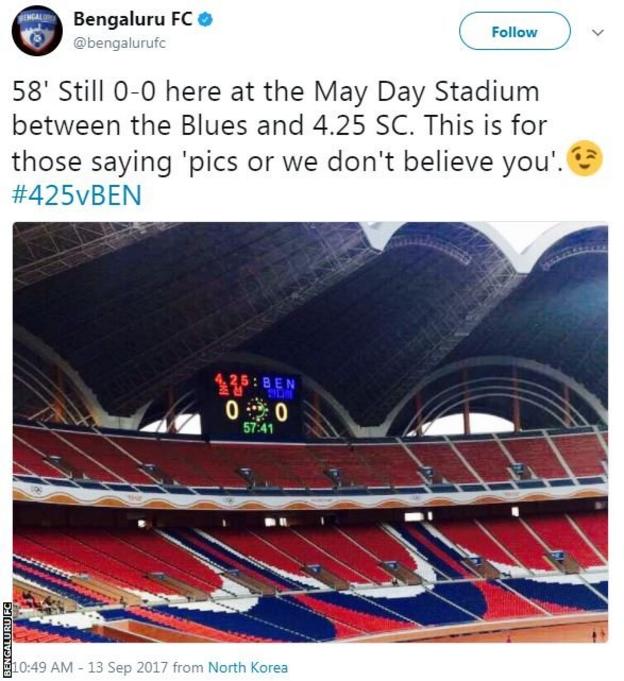 'Time to get the hell out of here'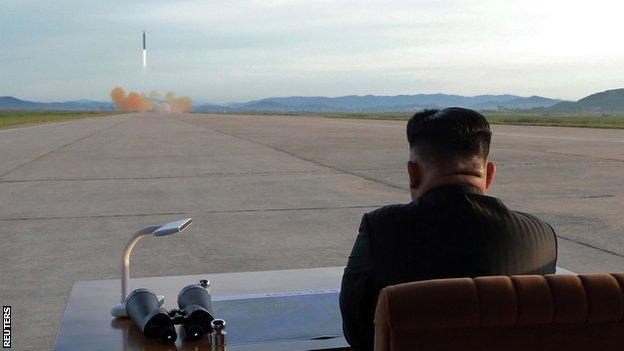 The game was on Wednesday, 13 September and the team could not leave the country until two days later. They did some light training and went on tours that Paartalu said were "set up".
On Friday morning they awoke to news that North Korea had fired another ballistic missile across Japan.
He added: "We had six channels in the hotel, including some Chinese ones, a propaganda channel and Al Jazeera. Lo and behold I watched that North Korea had launched a missile at 6am that morning.
"As we were checking out a guy told us that if we had stood outside the hotel at 6am we would have seen the missile go over our hotel, it had been fired from the airport and the trajectory was clear for everyone to see.
"The boys looked at each other, like 'let's get out of here as quickly as possible'. When it got to that point, it hammered home 'let's just get the hell out of here'."
He added: "I am not sure if the North Koreans are fully aware of the situation.
"Our players threw a few questions at the guides, they were adamant they were defending themselves and their 'supreme leader' was showing he was strong enough to take on the US. They seemed brainwashed, like North Korea was all powerful and the US was weak. It was really bizarre."
'To think this place could get wiped out makes you feel sorry'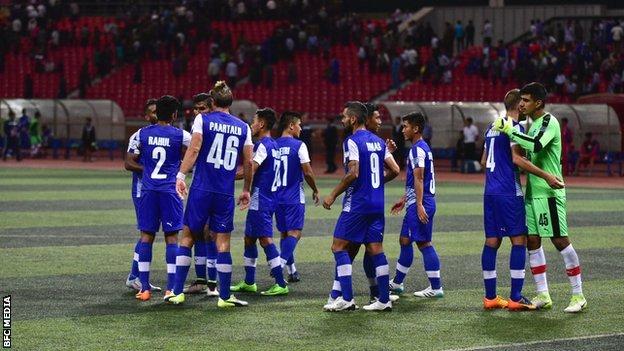 "North Korea is a beautiful country, blue skies, plants and flowers and greenery and farms," said Paartalu. "It does not make you feel uneasy at all.
"Even travelling around you are just excited to see it, how many people get to see that? If I had not been playing football, there would have been no chance I would have been able to enter the country.
"I will never forget the trip and am so glad I got the chance to do it. People will ask me about it for years to come - not many people can say they have been to North Korea."
Bengaluru will now play Tajikistan's FC Istiklol in the inter-zonal final with the winner progressing to the overall final.
Paartalu added: "The biggest thing I will take from the trip is not to believe everything you read on the news. There is one guy or a handful of guys who are trying to do some crazy stuff.
"The feeling I had was I felt sorry, sorry for the young boys training with a smile on their face, the ball at their feet, loving the game of football. To think this place could get wiped out and these people suffer really does make me feel sorry, I just hope it doesn't happen.
"After the game I got a big hug from their striker and he said congratulations with a smile on his face. I thought, 'I did not expect you to speak English and to do it with a smile on your face and being humble'. Sport does really bring people together, that is the beautiful game."