Youssoufa Moukoko: 12-year-old scores three in two games for Germany U16s
Last updated on .From the section European Football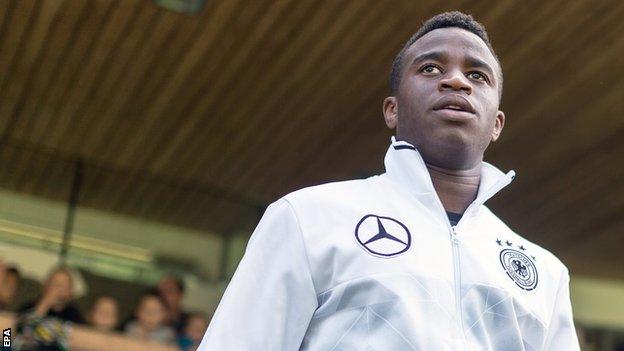 The father of a 12-year-old boy who has scored three times in two under-16 internationals for Germany has rejected doubts about his son's true age.
Cameroon-born Youssoufa Moukoko followed his debut goal against Austria on Monday with a double against the same side in a 2-1 win on Wednesday.
He has also scored 13 goals in five games for Borussia Dortmund Under-17s.
"Straight after the birth, I registered him at the German embassy in Yaounde," said his father, Joseph.
"We have a German birth certificate."
According to his official birth certificate, Moukok was born on 20 November, 2004 in Cameroon.
There have been some questions in the German press over the youngster's true age, but the German Football Association (DFB) has said all the paperwork is in order.
"The DFB has already had a number of intensive discussions with Borussia Dortmund at various levels," it said in a statement.
"There is no doubt about the correctness of the age of the player."
Under DFB rules, Moukoko will not be allowed to play in the Bundesliga until he is 17.