Harry Kane: Is Tottenham striker a potential Ballon d'Or winner?
Last updated on .From the section Tottenham616
Harry Kane continued his quest to "break into that world-class bracket" with two goals in Tottenham's 3-1 Champions League group-stage win over Borussia Dortmund.
The 24-year-old England striker also scored twice in a 3-0 win at Everton in the Premier League on Saturday, which brought up his century of goals for Spurs.
He now has 103 Tottenham goals in 170 games, including 28 in his past 23 matches for club and country.
But is this enough for him to be considered world-class? And will he ever claim the ultimate individual prize in world football, the Ballon d'Or?
Why would Kane want to win the Ballon d'Or?
Ballon d'Or winners

2016:

Cristiano Ronaldo

2009:

Lionel Messi

2015:

Lionel Messi

2008:

Cristiano Ronaldo

2014:

Cristiano Ronaldo

2007:

Kaka

2013:

Cristiano Ronaldo

2006:

Fabio Cannavaro

2012:

Lionel Messi

2005:

Ronaldinho

2011:

Lionel Messi

2004:

Andriy Shevchenko

2010:

Lionel Messi

2003:

Pavel Nedved
It is football's Everest, Olympic gold, Oscar - the pinnacle of a player's career.
In June, Kane expressed his desire to join an elite group that includes Sir Bobby Charlton, Johan Cruyff, Franz Beckenbauer, Ronaldo and Lionel Messi.
"I'd do whatever I can to win that big gold trophy. It is definitely something I aspire to do," he said.
"Cristiano Ronaldo won La Liga and the Champions League and that is why he wins it. Messi is in a similar situation.
"To do that it isn't just individual, it is about a team winning trophies and, hopefully, that is what I can do at Tottenham."
That poses the question...
Does he need to leave Spurs to become the best?
Goals for Tottenham: 103. Trophies: 0.
Former Manchester United and Everton defender Phil Neville said Kane, 24, may have to move to claim more team and individual honours.
"He could have to leave Spurs to become that top, top, world-class Robert Lewandowski-type player," said Neville.
"If they maintain being a top-four team, that will not be good enough for Harry Kane.
"He needs to be challenging for Ballons d'Or. He needs to be challenging for Champions Leagues and if Spurs are always going to be that 'nearly team', eventually he will want to leave and join a Real Madrid or a Barcelona.
"There will always be a doubt about Harry Kane until he gets to that level."
Kyle Walker left Tottenham for Manchester City this summer in order to "win a trophy", while fellow full-back Danny Rose suggested in August he might leave because of Spurs' perceived lack of transfer activity.
According to Neville, Tottenham may need to end their nine-year barren run without a trophy soon if they are to hold on to Kane.
What is Kane worth in today's market?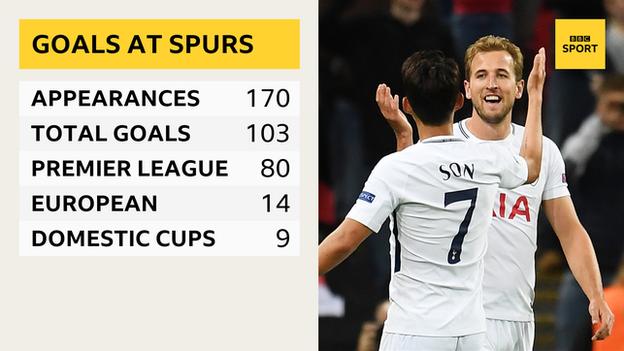 If Tottenham decide to sell their prize asset, what sum could they get?
According to the International Centre for Sports Studies' transfer value widget, Kane is now valued at 170.2m euros (£153.5m) - up 10.8% from the figure in June.
He has scored more than 30 goals for club and country combined in each of the past three seasons and his Spurs contract expires in 2022.
If he continues scoring at his current rate, his value could be even higher by the end of this campaign.
Why is Kane so good?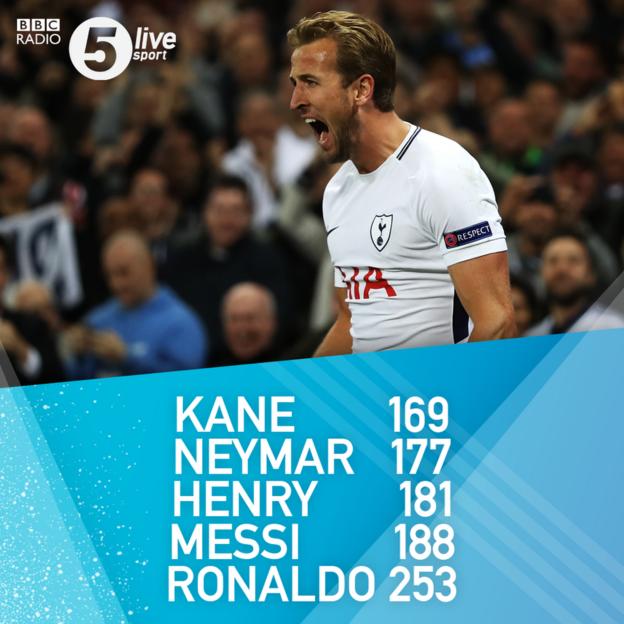 Tottenham manager Mauricio Pochettino dscribed Kane as "world-class" following Wednesday's win over Dortmund.
Neville, co-commentating on the match, said: "Kane has the killer instinct of [ex-Netherlands striker] Ruud van Nistelrooy.
"He runs around and bullies defenders like Chelsea's Diego Costa. He is the most complete centre-forward I have seen for some time.
"All centre-forwards are selfish. Van Nistelrooy used to punch the shower and rip the shower head off if he hadn't scored.
"Kane has got that but he also has that other side where he is an unbelievable team player."
Who is better than Kane?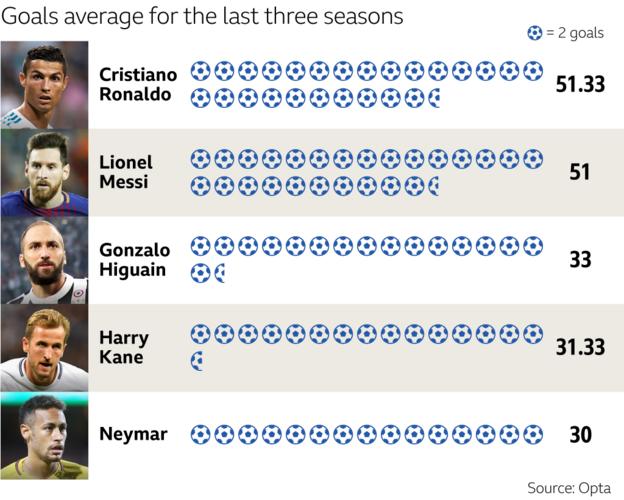 A provocative question, which no doubt has many of you shouting "Cristiano Ronaldo of Real Madrid" or "Barcelona's Lionel Messi".
But neither of those current players - nor Paris St-Germain's £200m forward Neymar - had the sort of stellar start to their careers that Kane has had.
He scored his first 100 club goals in only 169 games. Last year's Ballon d'Or winner Ronaldo took 253, although Ronaldo did not begin as an out-and-out striker.
Ronaldo had scored 529 club goals by the end of last season - a rate of 35.26 goals per season since he began his senior career in 2002.
Kane's current rate is 31.33 after three full seasons with Spurs.
In a BBC Sport poll, 37% of voters thought Harry Kane will never win a Ballon d'Or.