Celtic: Brendan Rodgers keen to improve side's mentality in Champions League

By Andy Burke
BBC Sport Scotland
Last updated on .From the section Football
Manager Brendan Rodgers says Celtic need a change of mindset to succeed in the Champions League.
"The problems we had in the game were probably more mental than anything else," Rodgers said.
"It's the mentality for me. I think for Celtic to qualify for the Champions League is huge in many ways, but that can't be seen just to be the success."
The defeat by PSG follows a 7-0 rout in their opening group game against Barcelona last season.
And Rodgers does not want qualification for the group stage to be seen as the end-game for his team.
"I want us to go into the Champions League and then impose our way of playing and way of working," he said.
"I know we're a million miles away financially from where other teams are at, but it still should allow us to compete.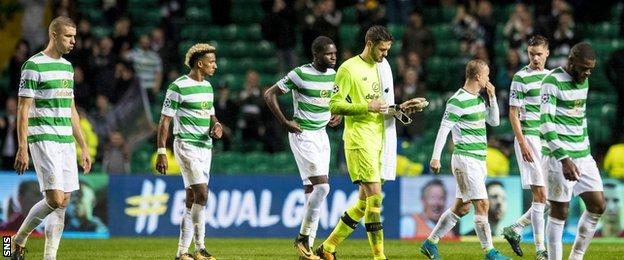 "Of course, that takes a little bit of time to get that mentality across. It shouldn't just be a celebration of us qualifying.
"We know how huge it is for everyone. We know what it is for the nation to have that representation.
"But that just can't be it. And it won't be. It's something we'll learn from."
Rodgers is adamant his players will move on quickly from what he described as a "humbling experience" against PSG, but admits it was hard to take for a side that are used to being the dominant force on the domestic front.
"Your professional pride hurts," the former Liverpool manager explained. "We're used to winning games and inflicting that type of performance on opponents.
"That is a setback against one of the great teams. We'd rather be in this competition, competing against those teams and those players and that allows our own players to grow. It's a great motivation."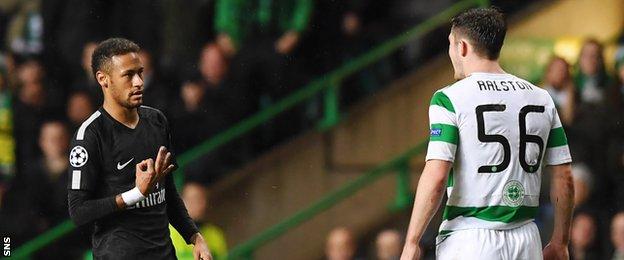 Rodgers was disappointed in Neymar's refusal to shake hands with Anthony Ralston at the end of the match, with the Brazilian seemingly unhappy at some robust challenges from the young full-back.
"That is a pity. I have spoke about my admiration for Neymar. It would have been nice if he could have recognised the young guy, 18 years old, playing up against himself as a top class player.
"Maybe if he feels that when he comes to Celtic Park it is a hostile ground, a difficult place for him to come so the friendships isn't quite there.
"But it would have been nice for him to acknowledge the young guy because he is a sensational player and that sort of mark of class when those high level players and elite players can show that bit of humility afterwards.
"But it wasn't to be. Tony had a great game.
"He is a wholehearted boy, very committed, very aggressive and he can play.
"If he can play against one of the best players in the world and perform to that level, it gives you confidence going forward."