Renato Sanches: Swansea City boss Paul Clement backs midfielder
Last updated on .From the section Football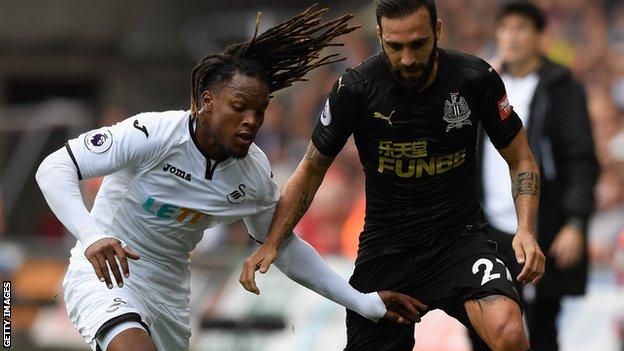 Head coach Paul Clement believes Renato Sanches will be a force for Swansea City in the Premier League.
But Clement insisted Euro 2016 winner Sanches, 20, will shine for Swansea and resurrect his career with Bayern.
"We all believe in him and think we have a great young talent," he said.
"He has had a difficult year after moving for a big price tag with expectation after the Euros and it didn't work out.
"But he has a future at Bayern and he can rebuild his confidence by working hard and getting more chances to play.
"We believe in him, he is a great young talent. Maybe it will take a bit of time - just because he has moved does not mean everything has come back and get on with it, he has not played a massive amount and that affects the tactical and physical side.
"A bit of time to adapt and he will be on the right track."
The arrival of Sanches in the summer transfer window was regarded as a real coup for Swansea and Clement, who coached the player during his time as assistant to Bayern manager Carlo Ancelotti.
Sanches moved from Benfica in May 2016 for 35m euros, but made only six league starts for the German giants.
Asked whether he had to build his confidence following his Swans bow, Clement said: "I showed a lot of confidence in bringing him here, he knows that.
"I've not spoken to Renato and I don't speak to any players about praise or criticism in the press. We go about our business of performing assessing the performance, planning and looking forward to the next game.
"He will improve very quickly once he settles down with a new language, new team-mates and culture.
"His attitude is positive, he feels settled here. You have to organise so much in a new country, new places to live, new car etc and we have got those things in place so he can focus on football.
"I have to exercise a certain amount of patience but not too much as we need performances and results."