Europa League: Arsenal v Cologne delayed by an hour at Emirates Stadium
Last updated on .From the section Football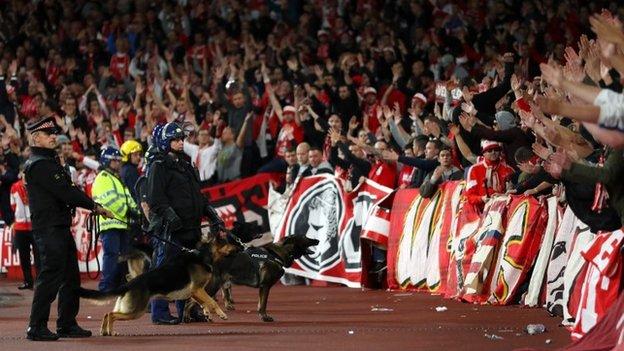 Arsenal's Europa League campaign began in chaos with their game against Cologne delayed by an hour "in the interests of crowd safety".
Thousands of ticketless away supporters turned up outside the ground and there were some scuffles between fans and stewards inside after the gates opened.
Police said five people had been arrested on suspicion of public order offences.
There were no reports of trouble during the game, which Arsenal won 3-1.
The German side had only been given a ticket allocation of 2,900.
But around 20,000 of their fans brought central London to a standstill earlier on Thursday afternoon.
At that stage, police said flares were let off but reported "no significant disorder".
However, BBC Radio 5 live correspondent Richard Conway later reported witnessing disturbances in the stadium before the match eventually kicked off at 21:05 BST.


"A group of Cologne fans entered the Emirates Stadium adjacent to the away section and proceeded to fight with stewards in an attempt to gain entry to the away section at around 20:15," he said.
"A further group arrived around five minutes later and also battled their way into their section.
"Police wearing riot helmets - some with dogs - then entered the stadium and order was restored."
An Arsenal spokesman said: "The players were relaxed and preparing for the game despite the delay. The decision to go ahead was the best option and the safest option."
Attempts to keep supporters segregated appeared to have failed with away fans clearly visible in various parts of the stadium.
Cologne are returning to European competition for the first time in 25 years.
Arsenal have not played in the Europa League since 2000. They missed out on Champions League football by finishing fifth in the Premier League last season.
The Metropolitan Police said in a statement: "Officers responded to reports of disorder at the Emirates Stadium during the evening of Thursday, 14 September where a large number of supporters had gathered for the Arsenal vs FC Koln match.
"A flexible policing plan was in place and additional officers were deployed.
"The game has now concluded and the majority of supporters have left the stadium and the surrounding area.
"No reports of any significant incidents."
'Worst feeling at football in 40 years' - Arsenal fans inside stadium before the game
Rachel: "In the Emirates as a home fan. Ashamed of Arsenal right now. All the warnings about turning away fans away and they've done nothing. No stewards to be seen. Feeling so intimidated."
Ade: "Currently inside the Emirates, thousands upon thousands of German fans everywhere around us. Horrible tense atmosphere. Tens of thousands of fans being made to feel very unsafe, including very young children.
"Not sure how this has happened. Has to be said if the roles were reversed and I was a British fan doing this in a German city, I'd be hanging my head in shame."
Foz: "Got to my usual seats in Club level with my 11-year-old son. Surrounded by Cologne fans. So unsafe we have been moved to the other side of the ground. Worst feeling at football in 40 years of watching home and away."
Chris: "Currently in the home end at Emirates - away section (corner) full and in full voice. Hundreds of people joining in the singing in the adjacent section behind the goal that should be for Arsenal supporters. Can only assume they are Cologne fans."
Steve: "Don't feel safe inside and won't feel safe outside. Should be called off and the Cologne fans sent packing. Arsenal fans who sold their tickets should be banned."
Marco: "What's the problem? Apart from the odd small scuffle amongst themselves the Cologne fans haven't caused any trouble and just want to support their team."
How it unfolded...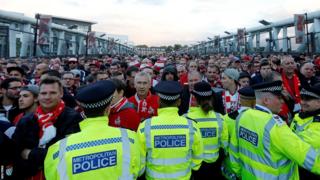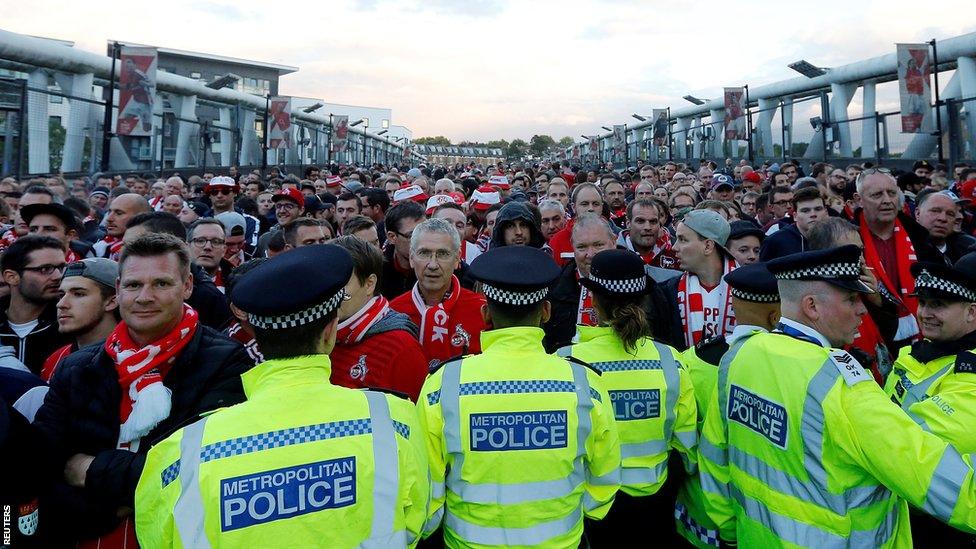 Cologne fans had been given a ticket allocation of 2,900 but 20,000 fans travelled over from Germany
Analysis
BBC Radio 5 live reporter John Southall at Emirates Stadium:
20:04 BST
There is a very uneasy atmosphere at the Emirates, where a few scuffles have broken out in the away end between Cologne supporters and stewards. The gates finally opened at 19:50 BST, with thousands of ticketless Cologne fans outside the stadium.
It does appear the game will now go ahead but ticketless fans will have to be managed outside the ground and riot police have just entered the Emirates and are surrounding the away fans.
20:29 BST
The Cologne fans are all over the Emirates, they're meant to have the 3,000 seats behind one goal but it's become very apparent that they're pretty much in the whole lower tier at that end.
There is a riot police segregation in the middle of that tier but it's Cologne fans either side of it.
21:00 BST
We now have the comical sight of riot police separating Cologne fans. The question has to be how did so many Cologne fans manage to get into Arsenal areas? There needs to be an investigation into how this has happened.