Cologne criticise security at Arsenal after both clubs charged by Uefa
Last updated on .From the section European Football
Cologne criticised security at Arsenal after both clubs were charged by Uefa following their Europa League game.
The German club face four charges, including crowd disturbances and setting off fireworks, while Arsenal face a charge over blocked stairways.
Thursday's match was delayed by an hour as thousands of Cologne fans arrived at Emirates Stadium without tickets.
Cologne said "the security concept and communication seemed inadequate and the police force too small".
About 20,000 Cologne fans arrived in London for the first match in the group stage despite a ticket allocation of only 2,900.
This case will be dealt with by the Uefa's control, ethics and disciplinary body on 21 September.
Club proud of 'happy, positive' Colognians
Cologne said they were "proud that tens of thousands of Colognians wanted to experience the first European match in 25 years and made their way to London".
They added that the "overwhelming majority" of fans who travelled represented the club, the city and German football "happily and positively".
A Cologne statement read: "Due to the enormous demand for tickets, it would have been sensible, not least for security reasons, to allow more than the allocated 5% of stadium capacity to the guest fans.
"It was apparent that thousands of people from Cologne would seek to avoid the restrictions and get tickets in every way possible.
"One such way would be through the help of Arsenal supporters, who passed on their tickets to the FC fans. Some as gifts, but some also for horrendous prices.
"Arsenal FC has described the extent of this second ticket market as 'disappointing' and has announced that further clarifications of the circumstances will be evaluated."
Cologne distanced themselves from "so-called disturbers" who "threatened, insulted, and even attacked stewards and police officers without cause", saying there was "no excuse or justification" for their actions.
On the situation before the match, the statement added: "Despite the tremendous experience of both the London security forces and Arsenal as a permanent partaker in European football, the organisers were unfortunately not adequately prepared for the task."
Uefa charges:
Cologne
• Crowd disturbances
• Setting off fireworks
• Throwing of objects
• Acts of damage
Arsenal
• Stairways blocked in away supporters sector
'I thought they would not play the game'
Arsenal have started a review and their statement on Friday read: "We worked with our colleagues at Cologne to stop supporters travelling without match tickets.
"The 3,000 tickets issued to Cologne fans was in line with competition rules but it is clear many more visiting fans arrived, causing significant congestion and disturbance outside the stadium before kick-off. Many tickets were sold through touts and this is very disappointing."
Arsenal manager Arsene Wenger said he was surprised the match - which his side won 3-1 - was played.
"Do we move it to Tuesday and play Thursday? It was all kind of speculations you know that we had to analyse and see how we can deal with the situation," he said.
"I thought they would not play the game, because I can't see the police taking any risk.
"We live in a society of 100% security and I thought they would never take a gamble to play this game when I saw the images around the stadium.
"But I must say our supporters dealt well with the situation as well and there was no aggravation."
Cologne coach Peter Stoger said: "I have no comment about the fans. I'm the coach. My job is the team. My job is football, not the fans."
Police said five people were arrested on suspicion of public order offences.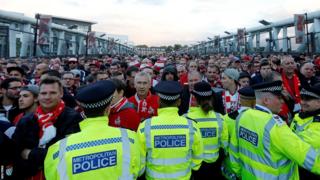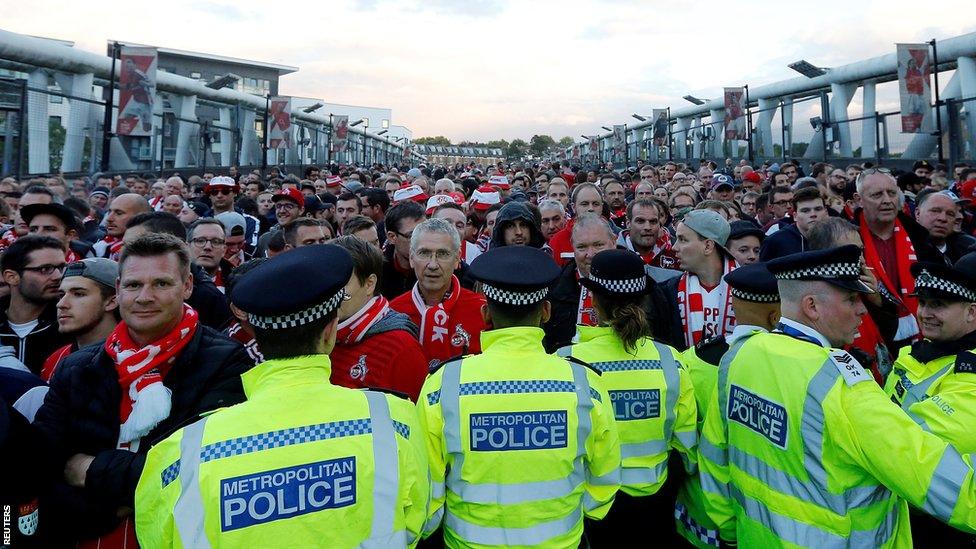 Cologne fans had been given a ticket allocation of 2,900 but 20,000 fans travelled over from Germany
How the day unfolded: From a standstill in Oxford Street to scuffles in the stands
Thousands of Cologne fans brought traffic to a halt in central London in the late afternoon as they began their journey to the game.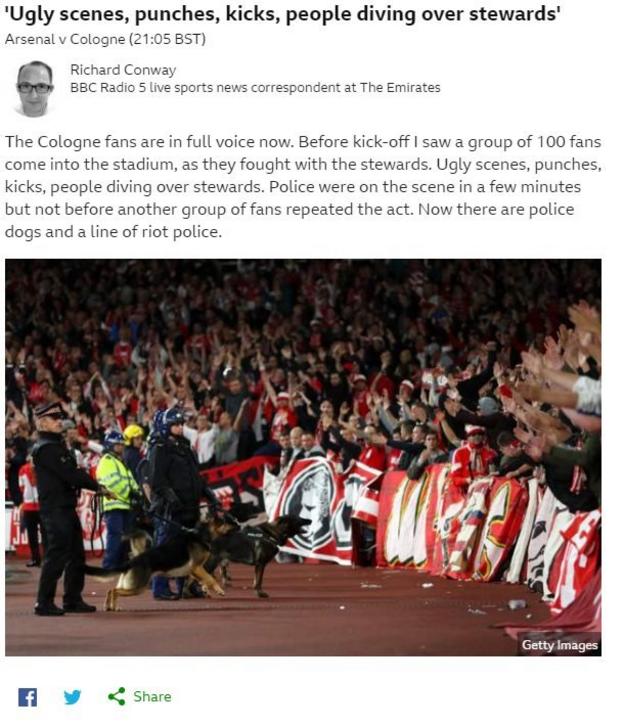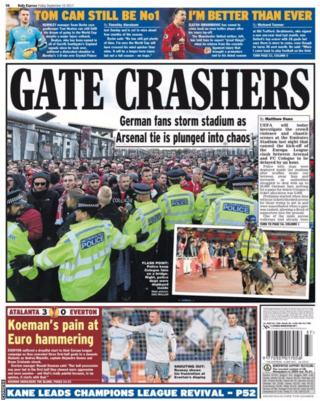 Friday's back page of the Daily Express