Ronald Koeman: Everton manager concerned about players
Last updated on .From the section Football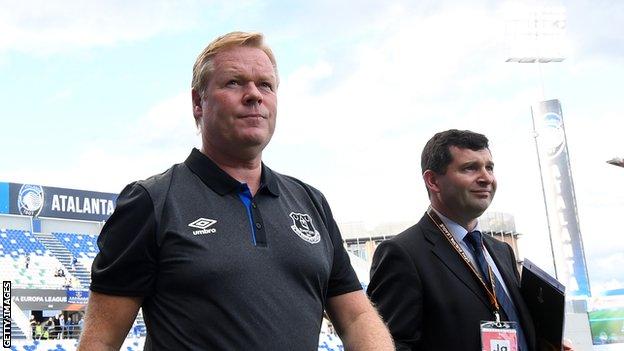 Everton manager Ronald Koeman said he is "worried" about his team going into Sunday's Premier League fixture at Manchester United.
"I will have a meeting with the players - the experienced ones must stand up," the Dutchman said.
"The defeat was a wake-up call. I saw the team with a lot of doubts."
He added: "I wasn't worried after Chelsea [2-0 defeat]. The reaction should have started in the second half against Tottenham [3-0 loss].
"But that and the first half against Atalanta is enough reason to be worried."
During Friday's news conference, Koeman was also asked whether expectations were too high after Everton spent more than £130m during this summer's transfer window.
"Maybe it's really easy to tell everybody that Everton will be fourth in the table and will fight for the Champions League because they have spent a lot of money," he added.
"But maybe the rest of the teams have spent even more money. And they didn't spend that money this summer because they already have the team they need.
"Our team is in transition. Everybody knows as young player and foreign player coming to the Premier League, they need time."
He added: "Everybody knows if you come to the league as a foreign player you need time. Big teams that get big signings, they get one year to adapt.
"We have other players with doubts. I don't want to make it individual because it's a team performance, but we need to be more aggressive."
The Toffees are 16th in the Premier League table with four points from four games.