Celtic: Kolo Toure rejoins club as technical assistant after ending playing career
Last updated on .From the section Celtic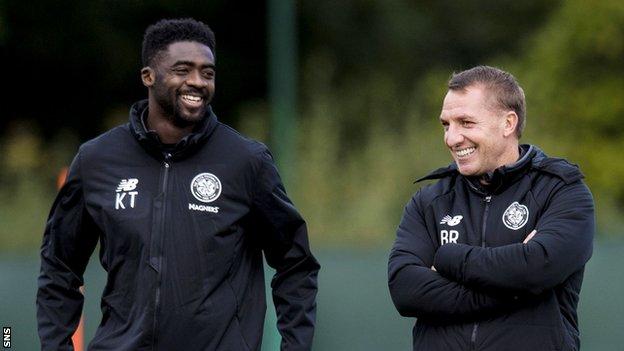 Kolo Toure says he "couldn't be happier" after returning to Celtic to join the club's coaching staff as a technical assistant.
Toure, 36, made 17 appearances for Celtic last season before ending his playing career to focus on coaching.
"This is a new chapter in my career, a new beginning. The football is over now," Toure told the Celtic website.
"I can officially say I am retired from playing and now I am fully concentrating on coaching."
In his new role, the former Arsenal, Liverpool and Manchester City defender will be "supporting on all first-team coaching matters" and using his knowledge to assist Celtic's various youth levels.
'Learn so much from Brendan Rodgers'
After taking up a coaching role with the Ivory Coast national set-up in the summer, Toure is relishing his coaching opportunity in the Scottish Premiership.
"For me, there is no big change in terms of what I will be doing," he said. "I have always been the kind of player who tries to help those around me.
"Now I will try to give advice, help the young players and just guide them and pass on all the experience I have acquired during my career."
Toure had gained some coaching experience in the second half of last season at Celtic and is eager for more.
"I can learn so much from working with Brendan Rodgers," he said. "He is a top manager. I will be working with him and his staff very closely each day.
"He is one of the best young managers in the world right now.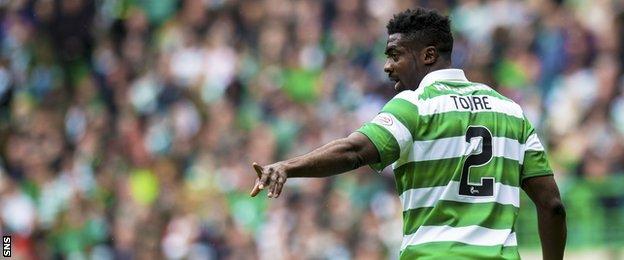 "What he's doing for Celtic is there for all to see. He's doing amazingly right now."
Manager Rodgers said Toure was a welcome addition to his coaching staff.
"This is great news for Celtic that we are able to bring a man of Kolo's experience into our coaching team," the Celtic manager said.
"In everything he does, he is quite simply a fantastic example to anyone.
"He has worked at the top of the game for so many years and he has all the qualities which any player of any age should aspire to.
"He is a fantastic role model for our younger players and someone who has a level of experience and knowledge which can only be invaluable to our established players."