Mark Sampson: PFA wants new barrister to look into racism claims
By Alistair Magowan
BBC Sport
Last updated on .From the section Women's Football
The Professional Footballers' Association wants a new lawyer to lead an inquiry into racism claims against England women manager Mark Sampson.
Sampson has denied asking mixed race midfielder Drew Spence during a 2015 tournament if she had been arrested.
Two investigations cleared him of wrongdoing but an independent inquiry led by barrister Katharine Newton did not interview Spence.
PFA chief Gordon Taylor also wants a fresh investigation to begin.
After Spence submitted written evidence supporting the original claims made by England and Chelsea team-mate Eniola Aluko, the Football Association said it would "look into it appropriately".
However, the governing body stopped short of saying a new investigation would begin and Newton is expected to examine any fresh claims.
Taylor told BBC Sport: "If new evidence appears then it's fair to everyone concerned if it's looked at with a fresh pair of eyes.
"It's incumbent to look at this with an experienced lawyer in discrimination, agreed by both sides. It needs an objective view.
"There needs to be confidence in the system that when someone raises a grievance, there is a clear and objective process, otherwise no-one will say anything in the future for fear of jeopardising their career."
Spence's allegations were originally raised by England and Chelsea team-mate Eniola Aluko as part of a "harassment and bullying" grievance against Sampson in response to a cultural review.
In a separate allegation, Aluko has also claimed Sampson told her to make sure her Nigerian relatives did not bring the Ebola virus to an England game at Wembley in 2014.
Sampson also denies that allegation, but appeared to contradict his own evidence after denying he had a conversation with Aluko about Ebola. During the inquiry, he told Newton he had joked with Aluko about her being called Ebola instead of Eniola by a cold-caller.
Senior FA executives are set to face a parliamentary inquiry over the handling of the investigations.
Aluko, who has 102 caps and is a qualified lawyer, and fellow England forward Lianne Sanderson have also been invited to give evidence to a select committee hearing planned for mid-October.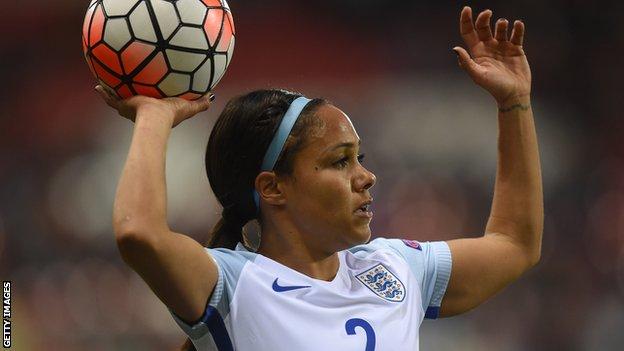 Sampson had open door policy - Scott
Former England women defender Alex Scott says Sampson had "the most open-door policy" she has ever experienced.
Scott, who is of mixed race and played 140 times for England, told BBC Radio 5 live: "If anyone ever had a problem he was open to new ideas.
"I'm not sitting here and saying everything in that England set-up is perfect because we know it's like a family environment and there's no family that's perfect.
"I can only speak of my experiences and I loved being a part of that England team. In the same breath, it's hard for Eni also. You have to see both sides."
Scott, who was part of Sampson's squad that finished third at the 2015 World Cup and at Euro 2017, when they reached the semi-finals, added: "When you look at results and what he's done then I suppose he should stay.
"He took a team that was ranked outside of the top teams, we won a bronze medal and now we're ranked third in the world.
"But then it all goes down to re-opening the investigation and then you have to see the outcomes. From that part I can't comment."