Sergio Aguero: Manchester City striker is a 'legend' - Pep Guardiola
Last updated on .From the section Football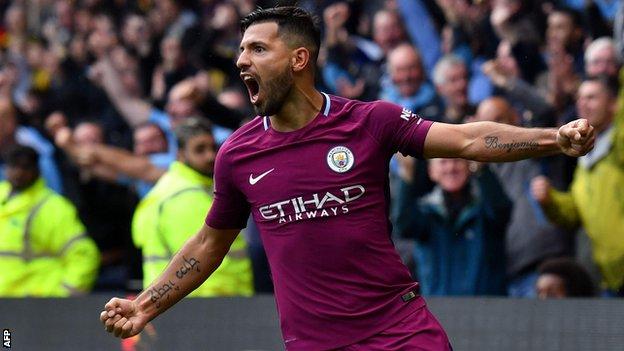 Manchester City manager Pep Guardiola praised "legend" Sergio Aguero, after the striker moved two goals away from equalling the club's all-time record.
The 29-year-old has 175 goals since joining City in 2011, with Eric Brook holding the club record of 177 goals.
"Hopefully that [the record] will happen very soon, and we can have a big celebration," said Guardiola.
Ex-England winger Brook, who was at City from 1928-1940, scored his goals in 494 appearances. Aguero has scored his in 259 games.
Guardiola added: "He's a legend, and it's a part of history in the club. Aguero's numbers speak for themselves - he is amazing."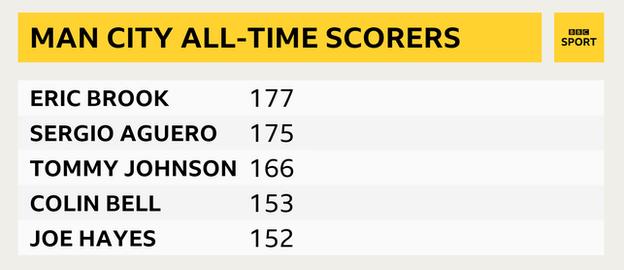 Aguero's hat-trick at Vicarage Road put him on 127 Premier League goals, moving him above Robbie Keane and Nicolas Anelka and level with Jimmy Floyd Hasselbaink on the competition's all-time list.
He has scored five goals in five games this season.
Former England striker and record Premier League goalscorer Alan Shearer (260 in 441 appearances) challenged Aguero to get 30 league goals this season.
Aguero has scored 20-plus goals in four of the past six seasons, 26 being his highest tally in the 2014-15 campaign.
Ex-Liverpool striker Luis Suarez was the latest player to score 30, in the 2013-14 season. Tottenham striker Harry Kane was the Premier League's top scorer in the past two seasons with 29 and 25 goals.
"Watford could not get near Aguero," said Shearer on Match of the Day. "It was a top performance. For a centre-forward to play in this City team must be an absolute dream, with the chances created and the pace going forward.
"I think you are looking for Aguero to get 30 league goals this year."
Former England defender Phil Neville added: "Aguero does two things really well. When he goes short, he takes a defender into an area he's not comfortable with.
"But when he runs in behind it's very difficult because he's so small with a low centre of gravity."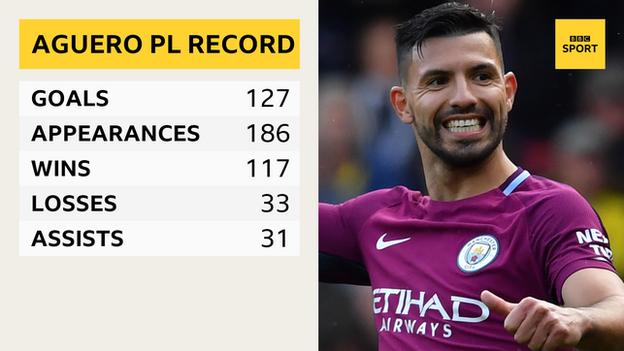 Aguero the goal machine
Six Premier League hat-tricks, only Alan Shearer (11), Robbie Fowler (9), Michael Owen and Thierry Henry (8) have more
12th on all-time Premier League goalscorers list, with Robin van Persie 11th on 144 goals and Teddy Sheringham 10th on 146
Most Premier League goals by a non-European player
Scored 20+ Premier League goals in four of past six seasons