Celtic money gulf comparisons do add up but praise is not always equivalent

By Tom English
BBC Scotland
Last updated on .From the section Football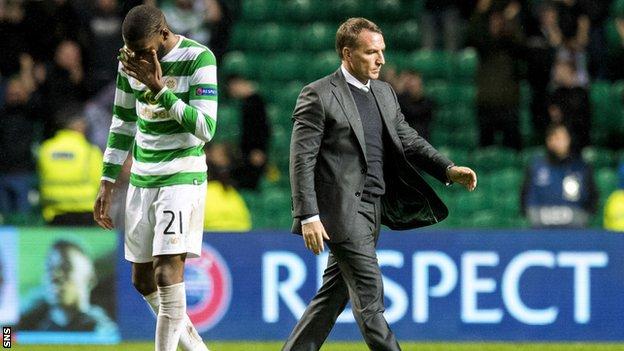 In the build-up to Celtic's humbling experience at the hands of Paris St-Germain last week there was an understandable focus on the jaw-dropping financial disparity between the two clubs.
On the night, PSG's starting line-up cost 531m euros - including the 166m euros due on Kylian Mbappe next season - and their match-day squad in total came in at 638m euros. By comparison, the team that began the match for Celtic on Tuesday night cost £19m (about 21.6m euros). PSG's starting 11 was about 25 times more expensive than Celtic's in terms of transfer fees.
Last season, PSG's player salary budget was about six times higher than Celtic's - the French forked out an average weekly wage of £86,093 compared to an average of £13,805 at Celtic Park. Those numbers are courtesy of Sporting Intelligence's Global Sports Salaries Survey 2016. Of course, since those figures were recorded, PSG have recruited Neymar, Mbappe and Dani Alves. For six times Celtic's budget we can now read nine or 10 times, maybe more.
There was some criticism of the way Celtic played against the French in the 5-0 defeat, a focus on their poor defending, poor distribution and all round passivity. Last season, Celtic came up against Manchester City in the Champions League and got two draws. City were the ninth best-resourced sporting organisation in the world in 2016 - five teams from NBA, one from MLB, Manchester United and Barcelona were the only ones ahead of them - and yet Celtic found a way of living with them.
Mostly, though, there was a marvelling at the visitors in the wake of Tuesday. They were, in the minds of many seasoned Celtic watchers, better than City, better than United, better than Barcelona, Juventus, AC Milan and every other giant that has visited Celtic Park over the years.
Also, there was all that justified talk about the financial haves and the financial have-nots in European football, the widening and unbreachable gap between the PSGs of this world and the Celtics and the Qarabags, the two main whipping boys of midweek. Qarabag lost 6-0 to Chelsea.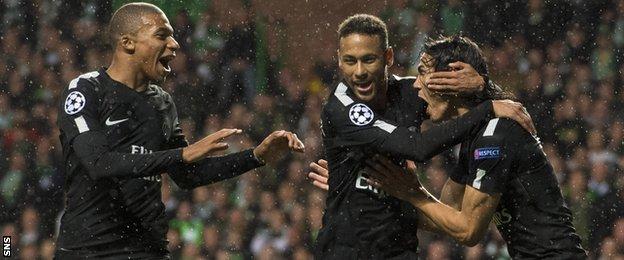 This has been the way of it in Scotland for decades. Nobody here needs to be told about the footballing food chain. When Brendan Rodgers seemed to balk at the notion that PSG's monetary advantage over Celtic is just the same, in relative terms, as Celtic's monetary advantage over much of the rest of Scottish football you could almost hear fans of many clubs in this country choking on their dinner.
There is a bit of a twisted logic in all of this. When Celtic got that wonderful 3-3 draw against Manchester City last season, they were celebrated, rightly so, for upsetting the odds.
A few weeks back, St Johnstone went to Celtic Park and got a 1-1 draw. According to those Sporting Intelligence numbers, Celtic paid 13 times more in player salaries last season than St Johnstone. It will be higher now given Celtic's summer recruitment. Thirteen times the salary budget and a starting line-up that cost, in transfer fees, in the region of £17m compared to St Johnstone's, which cost in the region of zero and yet much of the reaction centred around Celtic dropping points rather than St Johnstone gaining a point.
St Johnstone got praise, for sure. But was it commensurate with their achievement? Was it on anything like the same level of praise that Celtic received for holding City? No. It never is.
On Friday night, Partick Thistle drew 2-2 with Rangers. Last season, Rangers paid their players seven times what Thistle paid theirs and those figures will have gone up in the meantime given Pedro Caixinha's heavy spending in the summer. Once again the focus was more on Rangers dropping points and what it all meant for Caixinha rather than giving suitable praise to Alan Archibald and his players for a fine result.
Thistle were a little unlucky not to get a point from Celtic earlier in the season. They were denied a penalty late in the game which, if converted, could have given them a 1-1 draw against a club that pays its players 17 times more than Thistle can afford to pay theirs.
Rodgers has built a domestic machine that is joyful to watch at times. He says you can't really compare the gulf in Europe with the gulf in Scotland, but you can.
What Neymar, Edinson Cavani and Mbappe were to Celtic on Tuesday, Scott Sinclair, Leigh Griffiths, Moussa Dembele, Patrick Roberts, Stuart Armstrong and James Forrest have been to Celtic's Premiership opposition for over a year. In the havoc they can create in their respective worlds, there is little difference.
Celtic showed last season that they can, on a given day, upset the natural order of European football just a little bit. Their games against Bayern Munich will see them battle a similar financial gulf as the one they have just toiled through against PSG. Last season, Bayern's average annual salary per player was £4.1m while Celtic's was £717,860.
If they can get themselves in more combative mood they might upset the form book, but nobody will expect it. It's in their games against Anderlecht where the true measure of Celtic's progress in Europe will be found. Anderlecht have lost some key players from the past few seasons, a period that has seen them win matches in the Europa League against a level of opposition that Celtic have not been able to beat.
Their team is not as strong as it was. They have won just two of their seven games in the Belgian league, but they're good enough to take care of Celtic if Celtic are not right. They lost 3-0 against Bayern on Tuesday but only after playing all bar the first 11 minutes with 10 men. Anderlecht, on most recent figures, are behind Celtic in the financial stakes. It's going to be a level playing field, pretty much, when they meet in Brussels on 27 September.
If Celtic were to win that one they would be acclaimed from the highest rooftop. If they were to take anything away to PSG or home or away against Bayern then there isn't a trumpet big enough to blast out the praise that will come their way. We are all guilty of it in the media, but it would be nice if that praise was doled out a little more evenly among the few teams who have beaten the financial odds and taken points off them domestically.
Personally, there will be a bugle in the bag at Dens Park on Wednesday when Dundee face the might of Rodgers' team in the League Cup. Just in case.