Everton: Ronald Koeman needs to change team or style - Danny Murphy analysis

By Danny Murphy
MOTD2 pundit
Last updated on .From the section Football

I know they have had a very tough start to the season but at the moment Everton look toothless and carry very little threat going forward.
They need to find a way of causing teams more problems because it is too easy to play against them, and that is going to be the same whether they are playing the top sides or anyone else.
Watching Ronald Koeman's team in their 4-0 defeat against Manchester United on Sunday, I thought right from the start that they were too deep and on the back foot.
It looked like they were trying to stay in the game rather than trying to win it.
The final scoreline was harsh on them because, when Everton did begin to believe in themselves, they had a couple of chances at 1-0 where they should have scored.
But on the flip side, you could argue that United could have been out of sight by half-time and that was partly down to Everton's approach.
Not for the first time this season, I watched them thinking it was a bit too negative for me.
Everton do not have the pace to counter-attack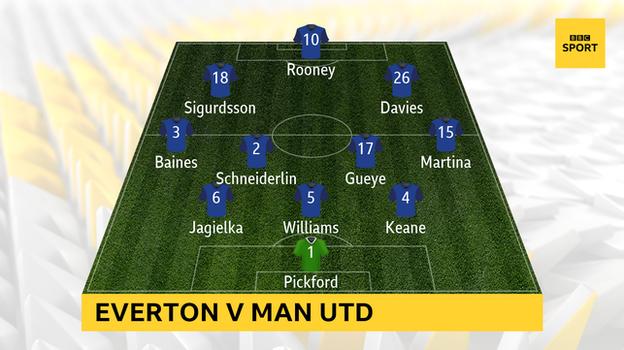 I understand why Koeman had such a conservative approach against United and went to Old Trafford with the idea of playing in a solid formation to try to keep Everton in the game.
It is only being sensible when you go to play the big boys, even more so when you consider what a poor run his side are on, and how strong United are.
But there is a balance between having a good shape and putting men behind the ball, and thinking, right, when the ball comes to this part of the pitch we are going to press to win the ball back and try to break.
Everton were set up as a counter-attacking team, but that never really happened for them because they did not start with players who had the pace to make it work. Their options when they did break were so limited.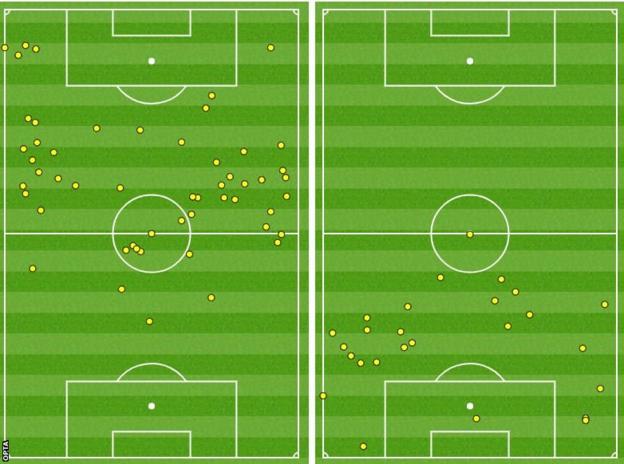 Wayne Rooney, Tom Davies and Gylfi Sigurdsson are all good footballers - but they are not quick. Everton did not have runners in wide positions busting a gut to get upfield, or a centre-forward who could stretch the pitch.
Early on, Rooney was so deep he was always picking up the ball in his own half. He was always outnumbered and it was easy for United to win the ball back and put Everton back under pressure. There was no way out for them.
Romelu Lukaku always allowed Everton to hit teams on the break, of course, but he was lining up against them on Sunday.
Koeman has got fast legs in his squad, in the likes of Kevin Mirallas and Dominic Calvert-Lewin, but they both started on the bench at Old Trafford.
So there might have to be a different way for Koeman to play, if he is going to stick with the same personnel.
Everton played some good football against United and any tweak in team selection and style might mean that they do not keep the ball so well.
It would be worth it, though, if they got the ball up the pitch quicker and looked more dynamic in the final third.
At the moment, everything they do is pretty slow and every move has to be almost perfect for them to create a chance at the end of it.
Koeman will find a way that works
At the start of the season Everton fans were very positive about the money they had spent and the signings they had made, but five weeks on things have gone a bit flat.
Whether it is shots, shots on target or goals, Everton's numbers this season are just not good enough.
Part of that is down to the opposition they have faced, of course. If the numbers are still the same after the next five games - when they have played some lesser teams - then they have got real problems.
Everton's next three Premier League matches

Saturday, 23 September

Bournemouth (home)

Sunday, 01 October

Burnley (home)

Sunday, 15 October

Brighton (away)
But even taking who they have played into account, the Toffees have been disappointing.
Not only are their attacking statistics down on their figures from the whole of last season, they also compare badly when you look at how they performed in the same five league fixtures they have just played against Stoke, Manchester City, Chelsea, Tottenham and Manchester United.
Everton in 2017-18 compared to 2016-17 (vs same opposition)

2016-17

2017-18

Shots

48

42

Shots on target

21

10

Goals scored

4

2

Goals conceded

8

10

Points

6

4
I don't think Evertonians will mind not winning any of those games against their last four opponents this time around, but they will feel their team should have had more of a go in them.
The way they are playing is a worry, but Koeman is a clever manager and he will be watching what is happening and learning - and he will find a way that works.
But it will not be easy. Other teams will be watching them and thinking that they will let Everton keep the ball because they are not going to be able to hurt them doing that.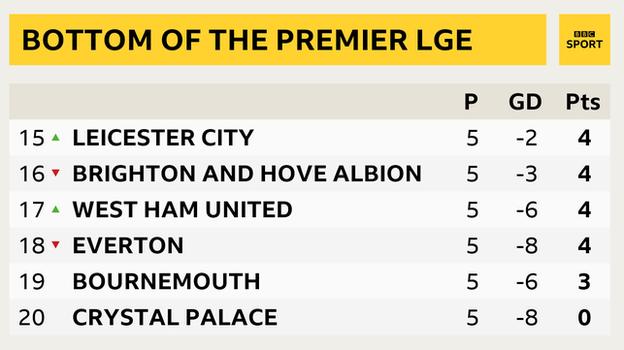 Rooney the only positive for Everton
The only real positive for Everton from Sunday's game was Wayne Rooney's performance on his return to his old club. I thought he was sensational.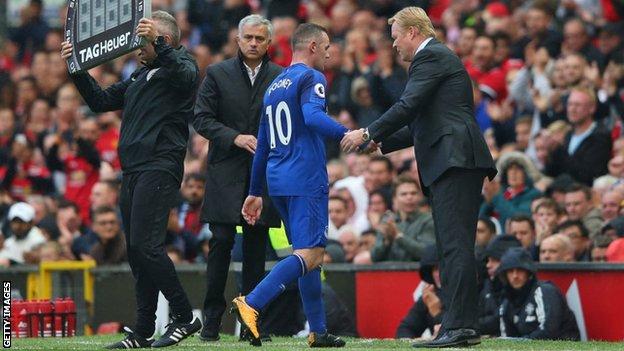 Rooney led the line on his own for much of the game, made chances and held the ball up brilliantly.
He could and should have scored too, but even that opportunity in the second half only came about through his own endeavour and creativity.
People have questioned his commitment and his ability to perform at this level, but you only had to watch him in this game to see what he has to offer - and how hungry he still is - because he was absolutely brilliant.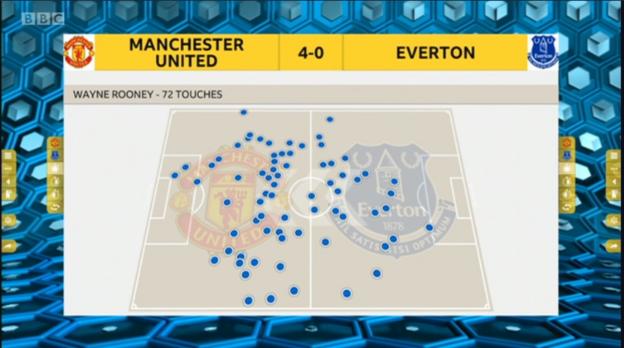 He was the shining light for Everton and I was disappointed for him that he did not score, because he deserved it.
His performance was something the other Everton players should look at and think 'that is the level we should be at'.
On its own, it is not enough, however.
Rooney has scored both his side's league goals this season but, as good as he still is, they cannot just rely on him to get them results.
Danny Murphy was speaking to BBC Sport's Chris Bevan.