Gareth Bale: Real Madrid forward returning to his best - Zinedine Zidane
Last updated on .From the section European Football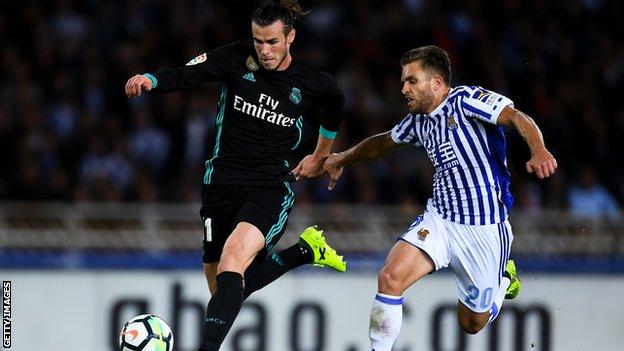 Real Madrid boss Zinedine Zidane says Gareth Bale is returning to his best after the Welshman scored their third goal in Sunday's 3-1 win over Real Sociedad.
The former Tottenham man was booed at times during Real's Champions League opener last week by his own supporters.
However, after Bale's brilliant goal, Zidane offered his support.
"He's not playing at his best but little by little we'll find the real Gareth," his manager said.
"He's had a great game and not just because of the goal. I'm happy he scored because he needed it. It wasn't easy, after running 70 metres, he finished very well and I am happy for him.
"I know he can do much better and we have to be patient. He is happy with his goal, it's a weight off of his shoulders. But he has also worked hard defensively."


Danny Gabbidon, a former international team-mate of Bale's, says the forward has nothing to prove to anyone, especially after Sunday's trademark goal, which saw him run almost 70 yards before dinking the ball over the goalkeeper.
"He's such a good player, he's proven that for a number of years now and that's why he gets the criticism he does, you expect him to play well every week," the former Cardiff City and West Ham centre-back told BBC Sport Wales.
"We know the injury problems he has had, it has taken him a while to get back to where he wants to be, but that goal was certainly the Bale of old.
"The defender had four yards off him and he showed everyone that turn of pace is still there. It was great to see and if he needed to, that would have silenced some critics.
"It was a good sight to see. I don't think he will let booing get to him, he's a very level headed guy.
"He is used to criticism, he's playing for one of the biggest teams in the world. Even [Cristiano] Ronaldo gets criticised."