Chris McLaughlin's words of the weekend: Neil Lennon's criticism has familiar ring

By Chris McLaughlin
BBC Scotland's senior football reporter
Last updated on .From the section Football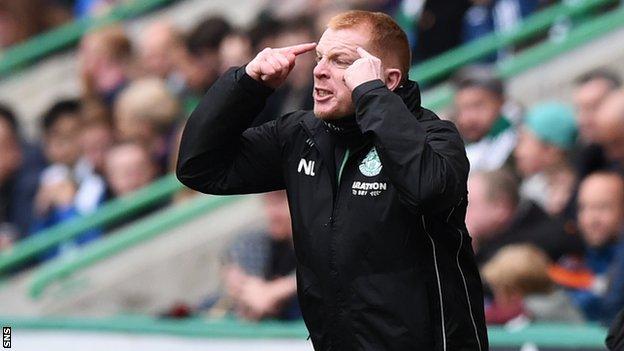 BBC Scotland's senior football reporter, Chris McLaughlin, analyses a talking point from the weekend's action, asking what's behind the words.
Neil Lennon speaking after his Hibernian side's 2-2 draw with Motherwell
"Brendan used the term the other day about under-12s, well we played like under-8s,"
If the future of the Scottish game really is about the grass roots then we should be buoyed this week by the fact our under-12s and under-8s appear to be doing better than expected.
The 12s, fresh from a fairly awkward school disco and a few hours on the BMX, kept the multi-million pound stars of Paris St-Germain to just five goals in the East End of Glasgow. And following a tantrum at not being allowed a mobile phone, the 8s drew 2-2 with Motherwell at Easter Road.
The comparisons made between professional footballers and a kids' kickabout this week have made headlines for obvious reasons, but where one surprised many, the other shocked few. Brendan Rodgers' criticism of his men following their Champions League defeat was the first time he'd shown public frustration at his team's efforts.
The Hibs manager Neil Lennon makes a habit of it.
I have witnessed it many times, interviewing the Northern Irishman after games, but could never quite work out whether it was tactical, emotional, or both. Fans of Scottish football need no reminders about how Lennon wears his heart on his sleeve, but he's also a born winner with a proven track record as a manager. Would it therefore be remiss to assume that player criticism stems purely from personal anger?
Last year, following a 1-1 draw with Raith Rovers at Easter Road, Lennon branded his players a disgrace. He even hinted at cowardice by referring to the yellow shirts they were wearing on the day. It was a brutal attack, even by Lennon's standards, but his side responded by going on a five-game winning run, including a comprehensive 3-0 win over title rivals Dundee United.
He also unleashed a verbal volley after their Scottish Cup defeat to Aberdeen last year, accusing his side of "not turning up" for the first half hour of the match. Again, it seemed to work because his side notched up seven goals in the following two games - scoring early in both matches.
If it is indeed a managerial tactic as opposed to ranting and raving through frustration, then the problem could come if it is overused. There's no secret formula to shock tactics because it does what it says on the tin. If it's expected, though, then the shock element is lost.
Some players who have served under Lennon will tell you there's also a great man-manager there in the mould of Martin O'Neill. Lennon worked under O'Neill at Celtic and Leicester and the pair became close, but the Hibs boss has always been keen to stress he's no Martin Part Two. O'Neill was another who'd leave little unsaid in an interview following defeat, although public squad criticism was rare.
With the fans coming through the gates at Easter Road in impressive numbers, the club is keen to build on the momentum of Scottish Cup success and promotion. Lennon is a man with as much passion as the most hardened Hibbee. When there's pain, they hurt and he bruises. It's a natural chain reaction, but the players are not excluded. In defeat, they feel it too - and when they don't, the boss is on hand with a public reminder.