Rangers: Pedro Caixinha says his side must cope with aggressive rivals
Last updated on .From the section Football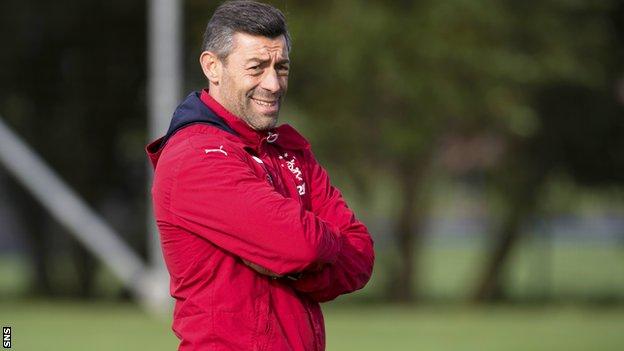 Pedro Caixinha says teams show more aggression against his Rangers side than other Premiership opponents.
In Rangers' draw with Partick Thistle, the Jags were shown five yellow cards and one red, while Ryan Edwards went unpunished for a tackle on Ryan Jack.
And Caixinha says he has noticed a general difference from watching sides while preparing for matches.
"I don't see the same aggression that they have with those [other] teams that they have with our team," he said.
"It's interesting, because normally when you watch the opposition teams playing against maybe the four opponents before they play against us, and normally in those opponents are top teams like playing against Celtic and Aberdeen, I don't see the same behaviour.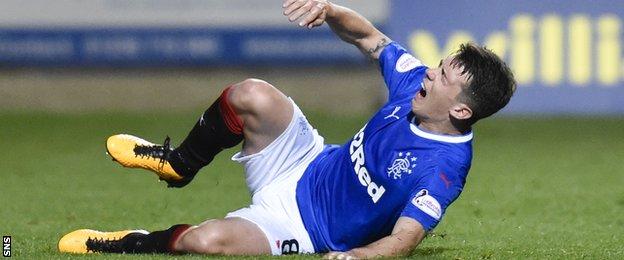 "I'm not criticising. I'm saying that we need to know how to deal with it because it's happening on a regular basis. So it's one more thing that we need to care about - not caring about the opponents' game, playing our football - but when it's time to fight, it's time to fight."
Rangers, who did not pick up any bookings against Thistle, are back at Firhill for a League Cup quarter-final on Tuesday night, following the 2-2 Premiership match on Friday.
And Caixinha wants to see his players cope with any aggression that comes their way, from Partick or any other side.
"It's a fact," he said in reference to the aggression shown towards his troops. "I'm not saying why it's happening. The fact is that it's happening and we need to know how to deal with it.
"It's not a surprise. It's just one fact that we need to know how to deal with.
"When you analyse things and you see the scenario and go for the reality about facing each opponent, you see that things are going in that direction. That's the reality we need to face."
While the Portuguese wants his players to stand tall, he added: "I don't think that aggression is paid with aggression.
"You need to be combative, not aggressive, that's my perspective in football. Play your football and don't focus on that type of situation but know from the very beginning that it is going to happen against ourselves."
Jack was left in agony after what looked like a studs-up challenge from Edwards on Friday, but the Rangers midfielder played the incident down.
"At the time (referee) Willie Collum said to me that he had never seen it and his view was blocked," Jack said.
"It's fair enough, as a player you just get up and have to get on with it. Ryan Edwards came to me after the game and said there was no malice or intent in the challenge. We shook hands and that was the end of it."