Celtic can cope with busy schedule, says goalkeeper Craig Gordon
Last updated on .From the section Football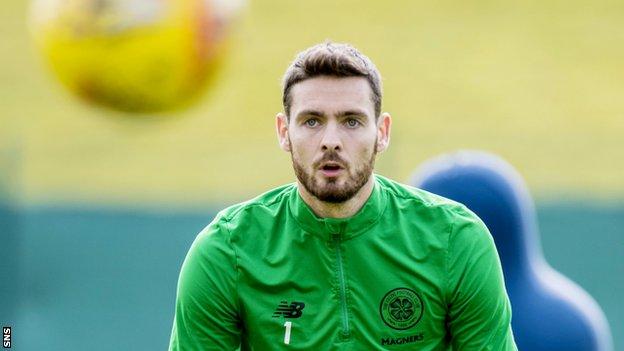 Goalkeeper Craig Gordon is confident Celtic have the "talent" to negotiate a busy period of fixtures.
Brendan Rodgers' side face three away games in different competitions inside eight days.
Celtic visit Dundee in the League Cup on Wednesday, Rangers in the Premiership on Saturday and Anderlecht in the Champions League next Wednesday.
"We need to keep winning matches and the next one's Dundee and we try and get in the next round," said Gordon.
"We know it's going to be busy, but we've got a big squad and a really talented group, so we're confident going into the next phase of games however many it might be over the next few weeks.
"It's always a big part of the season this, early on. We have to make sure we're still having a good start even though the European games.
"Obviously the travelling and everything, it can take a little bit out of a squad, but we have to make sure that domestically we're still winning games and progressing in all the competitions.
"We're used to playing European football and then coming back. It's always a difficult game - European games, they take an awful lot of effort.
"But the way we responded and came out and put in a good show, it shows the strength we've got in the squad and the capabilities and the mentality to get straight back in there and do the business again."
Celtic recovered from the 5-0 Champions League loss last week with a 4-0 win over Premiership opponents Ross County on Saturday, when Gordon made a fine double save to deny Craig Curran and Davis Keillor-Dunn.
"It was a good save, one that I'm very pleased with, so it's nice to contribute," said the Scotland stopper. "At that stage, it was only 2-0. Within a minute, we're 3-0 up and the game's over.
"It was a big moment for me because it means it's a big moment in the game when something like that happens.
"You can perhaps do that at 3-0 or 4-0 and it doesn't have a big consequence on the game, but for me, that one did and that's what makes a good save special."