Sheffield United bosses condemn fan violence in Norwich defeat
Last updated on .From the section Football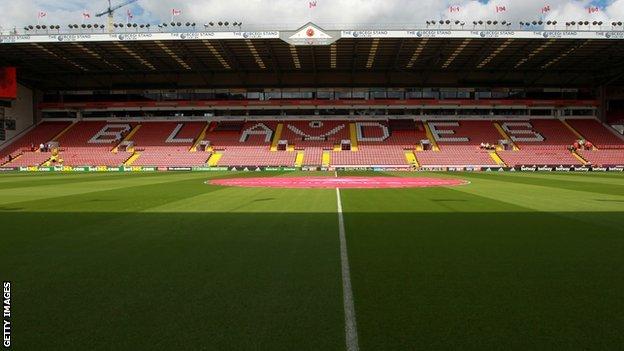 Sheffield United have released a statement criticising the violence at Saturday's home game against Norwich.
According to the statement, during the match "supporters were injured, objects were thrown onto the pitch and high-profile Norwich officials were abused".
The club said: "We simply will not tolerate the unsportsmanlike and illegal conduct of a few to spoil things for the majority."
The Blades travel to rivals Sheffield Wednesday on Sunday.
Last week Cleveland police released images of Sheffield United fans they would like to speak to after violence broke out at the end of the Blades' defeat at Middlesbrough in August.
The club added: "Violence in any form is unacceptable at Bramall Lane. We'd like to assure our fans and supporters that the staff and management of Sheffield United, in co-operation with South Yorkshire Police, will make every effort to assure a safe environment for the derby at the weekend.
"To a degree all in football expect good natured comments at a game - it is part of the culture of football. Enthusiasm, however, can never be an excuse for violence. We are working with the police in coordinating a root and branch approach to identify those supporters who are tarnishing the name of Sheffield United and putting football in a very poor light.
"At a time when we are aiming to have fewer security-related incidents, these individuals seem concerned only with their selfish desire to ruin the wonderful Bramall Lane experience for everyone else."