Fifa: Caribbean football chief Gordon Derrick banned for six years
Last updated on .From the section Football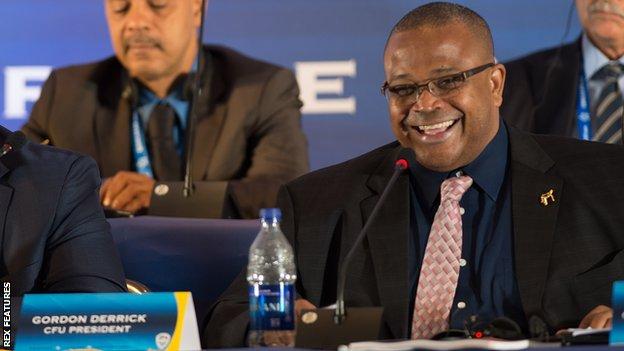 Caribbean Football Union president Gordon Derrick has been banned from football for six years by Fifa.
Derrick, who is also the general secretary of the Antigua and Barbuda Football Association, was found guilty of a series of bribery and conflict of interest charges.
He has also been fined £23,000.
Last year he was barred from standing in the Concacaf regional presidential election, success in which would have made him a Fifa vice-president.
World governing body Fifa said the investigation into Derrick focused on alleged conflicts of interest, offering and accepting gifts and other benefits, mismanagement of funds, abuse of position and disloyalty.
Derrick was appointed president of the CFU in May 2012, replacing Trinidadian Jack Warner, who left the position after a corruption investigation began.
Warner was later banned from football for life.