Celtic report huge rise in revenue on account of Champions League football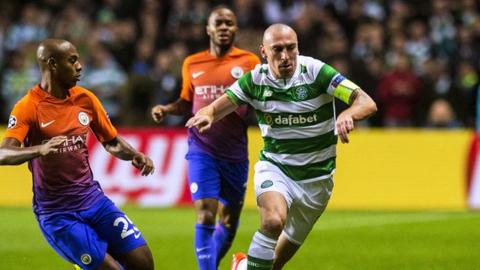 Celtic's return to the Champions League group stage contributed to a revenue increase of 74.2% to £90.6m for the year up to 30 June.
The interim results for the Scottish Premiership club show pre-tax profit rose from £0.5m to £6.9m.
Celtic chairman Ian Bankier said the results illustrated the importance of Champions League participation.
Its success was based on "consistency, stability and the implementation of a prudent long-term strategy," he said.
Brendan Rodgers guided Celtic to the group stage of the Champions League last season, where they faced Barcelona, Manchester City and Borussia Monchengladbach.
Bankier said the club was committed to investing "in its football operations, whilst maintaining a self-sustaining financial model".
"The board considers that this strategy remains appropriate for Celtic plc and will continue to seek out and retain top talent on and off the field of play so as to deliver football success and, in turn, shareholder value," the Celtic chairman added.
Group revenue increased by 74.2% to £90.6m
Operating expenses increased by 33.3% to £76.3m
Gain on sale of player registrations of £2.3m (2016: £12.6m)
Profit before taxation of £6.9m (2016: £0.5m)
Year-end cash net of bank borrowings of £17.9m (2016: £3.6m)
Investment in football personnel of £13.8m (2016: £8.8m)
Bankier added: "The board has been able to manage short-term challenges, and maintain the course it has set and reported on over the past several years, because there is consistency in the ownership, board and executive management of the company.
"These ingredients provide the stability that is so crucial for the successful operation of a football club at our level."