Why Manchester City have more than a passing interest in Girona v Barcelona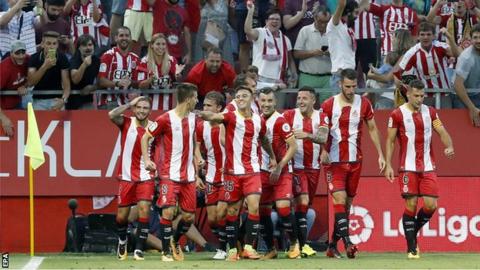 This weekend Girona will play by far the biggest game in their history - their first league derby against mighty neighbours Barcelona.
Girona, a small but attractive medieval city located an hour's drive north of Barcelona, have reached incredible heights.
But Saturday's match is much more than a Catalan affair and will also be followed very closely in an industrial corner of north-western England by the team that has just invested in them - Manchester City.
Last month, it was announced that Girona have become the latest members of the City Football Group, who are now co-owners of the Catalan club alongside the Girona Football Group (more of whom later).
City's decision to invest in Spain has strong footballing foundations, rooted in the club's and manager Pep Guardiola's intense frustrations with the way young players are developed in England.
By buying a stake in Girona, City believe they can overcome a serious structural problem in English football by providing a missing link for promising youngsters who are ready to move beyond youth football but not yet ready for the first team.
And following his time at this weekend's visitors to Girona, having that kind of finishing school is something Guardiola knows all about.
Why have Man City invested in Girona?
It's well-known that the likes of Guardiola, Messi, Xavi and Andres Iniesta all rose through Barcelona's youth system before progressing into the first team squad and global fame.
Something very important but less commonly understood, however, is that all those players did not actually gain their first regular taste of senior football in the glamorous confines of the Nou Camp, but in the Mini Estadi (literally 'mini stadium') across the road, playing for the club's reserve team, Barcelona B.
Messi, for example, played 22 games for Barca B, scoring six goals, before being permanently promoted by Frank Rijkaard. Xavi surpassed half a century of B team appearances, while Guardiola himself also gained his first managerial experience with the B team in the 2007-8 season.
The City boss, then, knows from first-hand experience the importance of having a developmental bridge between youth football and senior football. In England the Under-23 development league is supposed to help with that process but in Spain, that bridge is highly competitive because reserve teams are allowed to participate in fully-fledged professional leagues.
This season, for instance, Barca B are in the Segunda Division (the equivalent of the Championship) against historically important and well-supported clubs such as Sporting Gijon, Real Oviedo and Real Zaragoza, allowing their youngsters to cut their teeth in a serious and high quality competition against established senior pros.
That kind of system just does not exist in England, where promising young players are forced to make the jump straight from youth games into senior football.
Guardiola is not at all happy about that, publicly stating on several occasions his dissatisfaction with the lack of competitive reserve team football in England.
In January he told a news conference: "The reserve league for young players is not good enough. In Spain, the second teams of Barcelona and Real Madrid play in front of 40,000-45,000 people. Here they play with no spectators.
"It's not strong enough and that's why it's so difficult for the English players sometimes. I think it's a real problem for English football."
Other members of City's hierarchy - including chief executive Ferran Soriano and director of football Txiki Begiristain, who were also previously at Barcelona - share their manager's convictions and, with no realistic hopes of being able to field a reserve team in the Championship, they took a straightforward decision: if City can't have a B team in England, they'll just invest in one in Spain.
A good deal for both clubs?
To an extent, the purchase of Girona is a continuation of a long-standing policy which has seen City invest in several overseas clubs: New York City FC, Melbourne City FC, Yokohama Marinos and Club Atletico Torque (Uruguay) are also owned by the City Football Group.
But the case of Girona is different.
The other members of City's stable serve to a significant extent as branding exercises - an attempt to boost City's profile in the key markets of North America, Australia, Japan and South America. Of course there are also strong sporting connections and City would be delighted if Atletico Torque unearth the next Luis Suarez, but that's not the only purpose of those deals.
In Girona, however, branding opportunities are essentially insignificant and, instead, it's all about football.
Specifically, it's all about giving City's most promising young players the chance to gain developmental experiences they simply could not have in England, and to that end City have loaned no less than five players to Girona this season with the hope they will improve sufficiently in La Liga to force themselves into Guardiola's squad next season, although it is worth noting the Spanish club are paying the full wages of the loanees.
Of course, it's also a positive relationship for Girona, who benefit from receiving a group of highly rated youngsters along with other free perks such as the use of City's training facilities during their pre-season tour to England this summer, and their fans are happy with the arrangement as the club embarks upon its first top-flight campaign.
One fan, Jaume Boix, summed up the positive feelings of fans as he reflected: "It brings more money into the club to consolidate our position in the top division and sign better players."
Is there a conflict of interests?
Not everyone is happy with City's latest move, however, with serious concern sparked by the fact that Girona Football Group - the co-owners of Girona alongside City Football Group - is headed by none other than Pere Guardiola, Pep's younger brother and agent.
There are obvious ethical concerns about that scenario, and however untrue they might be, City will always be forced to endure suspicions that their deal with Girona is a dubious case of nepotism as the manager of one club helps his brother run another.
It's also easy to imagine how alarm bells would ring if, for example, Girona follow in the footsteps of another small-town team, Villarreal, and end up qualifying for the Champions League, where they could be drawn to play against their owners.
And although they are happy enough for now, Girona fans might not be quite so comfortable if suspicions ever arise that City's loanees are being given preferential treatment, or if key decisions about tactics and the recruitment of players and coaches are being taken in Manchester rather than Girona.
City are aware of these objections and relaxed about them, insisting the long-term vision is bigger than the personalities involved and emphasising they will not be exerting any direct influence over footballing decisions at Girona, despite co-owning the club.
According to City, the fact that Pep and Pere Guardiola are brothers comes a long way secondary to the fact that they - and other key management personnel at both clubs - share complementary ideas about how football clubs should be run and how football teams should play.
City also believe their alliance with Girona is nothing out of the ordinary, with other English clubs already enjoying close relationships with teams in other countries such as Chelsea's partnership with Dutch side Vitesse Arnhem - although the fact that City actually own Girona, with the assistance of their manager's brother, obviously takes their arrangement to a much higher level of commitment.
A new derby for La Liga
After scoring nine goals in the season's opening five games, Lionel Messi and his Barcelona team-mates will attempt to maintain their 100% record at the top of La Liga this weekend with a brand new local derby.
Until now, the city of Girona and its provinces has been Barca 'territory', with most locals supporting the Blaugrana and heading down to the Nou Camp in their thousands every other week.
The local team barely got a look-in, with Girona struggling to attract more than two or three thousand fans even during last season's promotion campaign.
But now that is changing. More and more Girona natives are starting to support the city's team, and capacity at their quaint Montilivi stadium has been increased to 13,000 with the addition of temporary stands.
And they have made a bright start to the season, taking a 2-0 lead over Atletico Madrid on the opening day before being pegged back for a 2-2 draw, and then beating Malaga to claim their first top flight victory.
Led by experienced manager Pablo Machin, who is in his fourth full season with the club, Girona employ a Guardiola-esque passing game, using wingbacks to stretch the width of the pitch while local boys turned good Alex Granell and Pere Pons control the centre.
They are enjoyable to watch, and with the support of their quintet of City loanees they should have every chance of extending their stay in the top flight beyond one season.
Beyond that, there's no saying how far their alliance with City will take them. And if it proves successful, maybe more Premier League clubs will be tempted to follow the same model.
Reserve teams overseas? It might just catch on.
The Man City players at Girona
Douglas Luiz: City have high hopes for this 19 year-old striker, who was signed from Vasco da Gama in his native Brazil this summer and immediately loaned to Girona. He has made just three brief substitute appearances from the bench so far in Spain.
Marlos Moreno: 20 year-old Colombian international forward who joined City for £5m from Atletico Nacional in 2016 and spent last season with an injury-disrupted loan spell at Deportivo La Coruna. Has not yet made his Girona debut.
Larry Kayode: Another striker, the Nigerian international was snapped up from Austria Vienna in the summer and, like Luiz, sent straight to Girona on loan. The 24 year-old has appeared in every Girona game so far this season, including one start, but his biggest contribution so far was a fairly spectacular dive to win a penalty in the last minute of last weekend's meeting with Sevilla. But skipper Alex Granell missed the spot kick and Sevilla won 1-0.
Pablo Maffeo: Barcelona-born full-back who started out at Espanyol before moving to City two years ago. This is his third season on loan with Girona after making 14 appearances during last year's promotion campaign, and he started the first four games of the new La Liga season, delivering some bright displays from his raiding wing-back position.
Aleix Garcia: A midfielder who has been capped at every youth international level, the 20 year-old started out with Villarreal before joining City in 2015. He made his City debut under Manuel Pellegrini and played a handful of games last season before heading to Girona, where he made his debut as a substitute in last weekend's meeting with Sevilla, nearly scoring with a long-range strike.