Jordan Hugill: Preston North End striker fully committed despite transfer request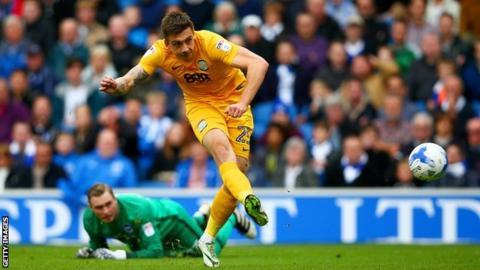 Preston striker Jordan Hugill says his commitment to playing for the club is still "100%" despite asking to leave during the summer transfer window.
The 25-year-old, who scored 13 goals last season, was linked to several other Championship clubs this summer with Reading reportedly offering £8m.
"It's been very stressful," Hugill told BBC Radio Lancashire.
"But I'm professional - I was never going to throw my toys out the pram," added the North End forward.
Preston, who also turned down an approach for the player from Ipswich Town in January, rejected his transfer request.
"There have been a number of bids for me over the last six months but nothing's ever changed my view on things - I've just got on with it," Hugill said.
"I've got my head down, worked hard and I'm hoping the fans see that I'm doing that and trying to score as many goals as I can.
"Nothing happened, so I'll carry on playing as much as I can and playing with 100% - that's who I am."
'Decisions you don't want to make'
Hugill joined the Lilywhites from Port Vale in 2014 and insisted that asking to leave was not easy.
"I love being here and it was a tough decision to hand in the transfer request," he said. "It might have been a bit selfish but it was something I had to do for my family.
"There are decisions to be made that, sometimes, you don't want to make but everything happens for a reason.
"I'm here for as long as the club want me to stay - it seems I'm an integral part of the team and I'm really happy with how I'm going."
Preston are fourth in the Championship table with only one defeat so far this season.