Everton: Reality bites for boss Ronald Koeman after testing start to the season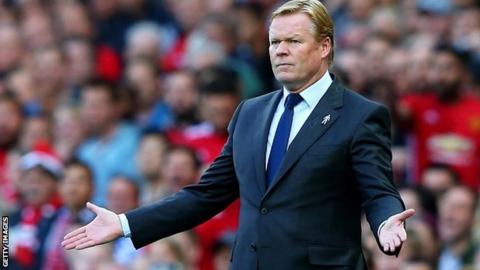 When Everton released a 62-second video clip on 9 July announcing Wayne Rooney's return after 13 years, optimism levels at Goodison Park were scaling heights unheard of in years.
Everton's board had moved swiftly and efficiently to secure the signings manager Ronald Koeman wanted with Jordan Pickford, Davy Klaassen, Michael Keane and Sandro Ramirez already on the payroll at a cost of £90m by the time the Prodigal Son made his way back down the M62 from Manchester United.
Romelu Lukaku had made his own £90m move in the opposite direction but even that could not overshadow the sense - with a club record £45m deal for Swansea City's Gylfi Sigurdsson in the pipeline - that Everton were ready to make an impact among the big hitters.
And yet, despite a routine win over Championship strugglers Sunderland in the Carabao Cup, Everton are in the Premier League's bottom three before Saturday's meeting with Bournemouth at Goodison Park.
So is this just a case of transition for an expensively reconstructed squad or does Koeman face deeper worries - and what has caused these early concerns?
The glaring failure to replace Lukaku
Once Lukaku announced in March that he would not be signing a new contract, he was effectively giving Everton notice he would leave Goodison Park.
Everton, with director of football Steve Walsh working on deals with Koeman and the board, should have made replacing their 25-goal leading scorer from last season top priority.
Spain Under-21 striker Sandro was brought in for £5.2m from Malaga while Rooney made his return. Dominic Calvert-Lewin, England's match-winner in the under-20 World Cup Final against Venezuela, is a promising work in progress as he has proved this season.
None, however, carry the pace, power and guarantee of goals that Lukaku brought to Everton and has already delivered at Manchester United.
Everton believed they were close to a deal for Arsenal's Olivier Giroud but were left floundering when he decided to stay. Plan B appeared to have been mislaid.
The familiar last-day transfer scramble which Everton fans thought had gone with the arrival of major shareholder, billionaire Farhad Moshiri, drew a blank and Koeman - who had regularly flagged up his desire for a striker - was left without that pivotal signing.
It was a huge collective failure of Everton's management structure underlined by only two goals in their first five league games - both from Rooney - and undermined so much fine earlier work.
Even the feel-good factor of Rooney's comeback, and he has been one of Everton's best performers, has been overshadowed by unwanted headlines after he was found guilty of a drink-driving offence.
Former Everton winger Ronny Goodlass, who summarises on the club's games for Radio Merseyside, told BBC Sport: "I think not getting a striker has had an impact on everything. They spent too long getting Sigurdsson done and took their eye off the ball for a centre-forward.
"You can see Everton are just crying out for a centre-forward. It was, and is, glaringly obvious.
"I think now, for the next four months, Everton could really struggle. They have not been creating anything and have not been keeping clean sheets."
Former Everton captain Kevin Ratcliffe was equally concerned by that failure in the transfer window that left a huge Lukaku-shaped hole in Everton's plans.
Ratcliffe, who led Everton to two titles, an FA Cup and European Cup Winners' Cup in the mid-80s, said: "How did we let this happen? I'm looking at the squad and wondering if it's good enough to be in the top four.
"Maybe not - I'm even thinking whether it's capable of finishing in the top six to be honest."
The lack of a focal point has resulted in no continuity of selection, with Sigurdsson - an outstanding number 10 bought on his strengths in that position - sometimes shoehorned into the team on the left.
It has also led to striker Oumar Niasse, exiled by Koeman after only 45 minutes of the first pre-season friendly following his arrival as manager then loaned to Hull City, finding his way back into the fold, the £13.5m signing from Lokomotiv Moscow scoring his first goal for the club against Sunderland on Wednesday, 500 days after his last Everton appearance.
He only remains at Everton because a deadline day move to Crystal Palace broke down at the last minute.
Everton had to make replacing Lukaku the central plank of their entire transfer strategy - failure to do so has been exposed painfully quickly.
Koeman needs to get real
Koeman was publicly irked by Manchester United manager Jose Mourinho suggesting Everton should aim for the top four after £140m of summer spending, responding: "Let's be realistic."
And when asked what was realistic, he said: "Same as last season."
Penny for the thoughts of Moshiri, who has already pointed out Everton's team is now 80% Koeman's and that the top six is an initial target.
Everton's key summer signings
Goalkeeper: Jordan Pickford
Defenders: Michael Keane (Burnley), Cuco Martina (Southampton)
Midfielders/forwards: Wayne Rooney (Manchester United), Gylfi Sigurdsson (Swansea), Nikola Vlasic (Hadjuk Split), Davy Klaassen (Ajax)
Strikers: Sandro Ramirez (Malaga)
Everton's ambition and aspirations were instantly lifted higher than last season's seventh once he rebuilt his squad - and the sound of "same again" has hit a discordant note with the supporters.
Goodlass says: "The statement Koeman came out with was wrong. You start giving certain players an excuse.
"I could put my grandmother in charge and Everton would finish seventh when you've spent that money."
Moshiri has not handed Koeman £140m to maintain the status quo and even though he would clearly disagree, Mourinho may have been more realistic than Everton's manager.
Productivity remains a problem
Koeman's buzzword throughout last season and early summer was "productivity".
The mantra underpinned his desire not to rely on goals from one man if Lukaku left, spreading the load. It was behind the summer transfer strategy which is, at this early stage, looking flawed.
With Ross Barkley injured and apparently an outcast, Everton have over-loaded in the number 10 position with Sigurdsson, £24m former Ajax captain Klaassen and Rooney.
The statistics this season make grim reading and, rather than back up Koeman's drive for increased productivity, suggest the ploy is backfiring.
Calvert-Lewin's opening goal in the Carabao Cup win was Everton's first goal for 443 minutes.
Lukaku carried the burden with 25 league goals last season. Barkley was a distant second on the list with five. The striker also had six assists and Barkley eight.
While it is still a season in its infancy, the early signs for Everton are ominous.
Only Crystal Palace have scored fewer than Everton's two goals - they have not scored at all - while Koeman's side have mustered a dismal 10 shots on target in their first five games, with only Swansea's seven attempts keeping them off the bottom.
At this stage last season, after five league games, Everton had scored 10 goals and had 37 shots on target. In 2016-17 they had 77 shots, including blocks, while this season they have had only 42.
If Koeman was intent on increasing Everton's productivity, he has so far failed.
Not all doom and gloom
The season is only just under way and Everton were handed arguably the hardest sequence of opening fixtures with visits to Manchester City, Chelsea and Manchester United in their first five games, as well as a home meeting with Spurs.
Koeman is also trying to integrate a high number of signings to compensate for the departure of his star name. Spurs found difficulties when they lost Gareth Bale to Real Madrid and Liverpool suffered similarly when Luis Suarez signed for Barcelona.
And it is not simply a tale of woe, despite the poor results.
Goalkeeper Pickford has looked worth every penny of £30m and Keane made a fine start but has had confidence sapped by the general malaise and the lack of a regular defensive set-up.
Everton's fixture list now takes on a more manageable appearance with home games against Bournemouth and Burnley in the league, with a Europa League tie with Apollon Limassol in between, to come.
Those fixtures will bring pressures of their own but at least give Everton the opportunity to gather momentum after a faltering start.
Everton also have a group of young players of high potential. Calvert-Lewin, at just 20, has moved to a different level this season, looking physically more imposing and more dangerous.
Tom Davies, still only 19, has shown signs of returning to his best against Manchester United and Sunderland while another England under-20 World Cup winner Ademola Lookman, 19, and teenage Croatian Nikola Vlasic have hinted at good things to come.
Jonjoe Kenny, 20, is knocking on the first-team door and along with 19-year-old Kieran Dowell, currently impressing on loan at Nottingham Forest, was one of six players from Everton included in England's recent under-21 squad for the recent European Championship qualifiers against the Netherlands and Latvia, with 20-year-old defender Mason Holgate in the party.
And that summer spending has injected quality into Everton's squad which Koeman will hope pays future dividends.
Koeman is under no pressure for his job but he knows Everton's power-broker Moshiri expects improvement, even if the manager is attempting to inject his own dose of cold reality.
In football, however, the most important currency is results and Koeman needs a good one against Bournemouth.
As Koeman said after the Sunderland win: "If you don't win it is difficult but now we have started to win and we have three more home games.
"If we win I go into the internationals with a smile on my face. If not I will have a different face."