Sergio Aguero: Why Man City's record-breaking striker is so special - Alan Shearer

By Alan Shearer
MOTD pundit - scored 283 league goals
Last updated on .From the section Football

Sergio Aguero has become Manchester City's greatest ever goalscorer, and he is still the best striker in the Premier League too - just.
He is a world-class finisher but part of what makes him so special is his consistency - he has been scoring at an incredible rate for City for more than six seasons now, not just two or three, and even Harry Kane and Romelu Lukaku have not managed that yet.
Aguero's goal against Napoli on Wednesday saw him surpass Eric Brook's total of 177 goals in all competitions for City and become his club's top scorer with 178. There are many more to come - he has broken the record now, but I think he will go on to smash it.
The 29-year-old Argentina international is already a City legend, but landmarks like this one cement his place in their history, and he deserves it. There is no doubt Aguero is also one of the best strikers of the entire Premier League era.
His scoring statistics in that competition alone - 129 goals in 188 appearances - tell you how good he is, and why I rate him so highly.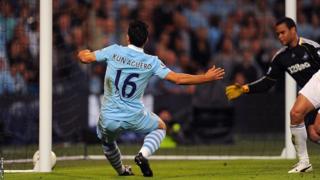 The first of many. Manchester City paid Atletico Madrid a reported £38m for 23-year-old Aguero in August 2011 and the Argentine made an instant impact, scoring twice on his debut, the first inside nine minutes, after coming off the bench in a 4-0 win over Swansea.


I find it strange that, so far, he has never made a Professional Footballers' Association team of the year during his time in England, but there is not much he can do about that and I am not sure he will be too bothered.
He has two league titles and a shed-load of goals to show everyone how good he is, as well as City's record, so he has had an amazingly successful time no matter which way you look at it - and it could get even better still.
'He's so difficult to stop - and he has adapted his game'
Last season was regarded as a difficult one for him, but he still found the net 33 times in 45 appearances and his scoring rate has not dropped. He has the best minutes-to-goal ratio of any Premier League player to have played more than 50 games, with a goal every 108 minutes.
In all competitions, Aguero has scored 20 goals or more in five of his six seasons at City and by watching him you can see why he is so difficult to stop.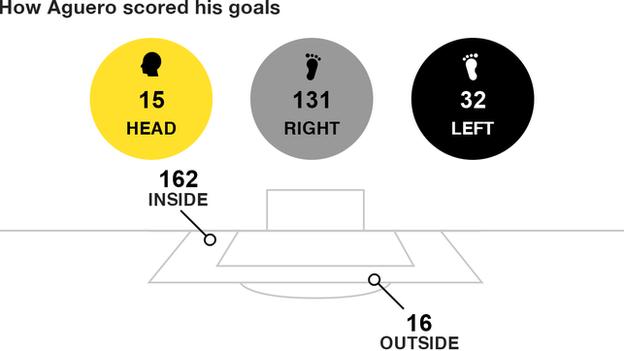 As well as being able to score all sorts of different goals, Aguero is strong and clever, can run with the ball and can also bring others into the game.
He is comfortable in whichever system his manager Pep Guardiola asks him to play, whether he is leading the attack on his own or up front with someone else.
Aguero is also working harder now, because that is what Guardiola demands of everyone in his side. Again, that shows his ability to adapt his game.
Guardiola also wants team players and Aguero has demonstrated he can play that way, for example when he was clean through against Liverpool but chose to set up Gabriel Jesus instead of trying to score himself.
There is no way I would have passed it if I was in that position, but my guess is that Aguero was trying to show his manager that he has an unselfish side to him and was willing to help a young team-mate who is new to the Premier League.
Sergio Aguero in the Premier League - since 2013-14*

Season

Average distance per 90 min (km)

Average sprints per 90 min

2013-14

9.2

53.7

2014-15

9.1

50.2

2015-16

8.9

44

2016-17**

10

60.8

2017-18

9.9

57

*When Opta began measuring distance data **When Guardiola took charge at Man City
It said a lot about his character and he did something similar against Watford when he let Raheem Sterling take a late penalty after he had already scored a hat-trick.
As Guardiola made clear, if Aguero had wanted to take that spot-kick, he could have done.
'If City are going to be successful, they need to keep him'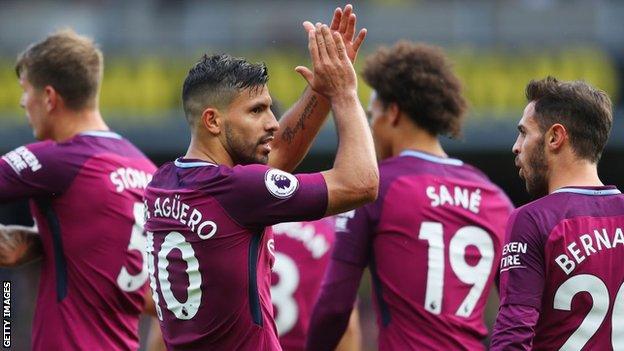 Despite all his goals and everything else that he brings to this City team, there has been speculation that Guardiola is willing to sell Aguero.
We don't know what would have happened if City had managed to sign Alexis Sanchez over the summer - or what Guardiola is planning to do next.
But I think I have made it clear what I think of Aguero. I am a huge admirer and, for me, if City are going to be successful then they need to keep him.
I would describe him as a great goalscorer and also a scorer of great goals, like the brilliant run and finish that saw him complete his hat-trick against Watford in September.
We have seen him do that kind of thing so many times down the years and, like all the very top players, he is the man for the big occasion too.
His most memorable goal is the injury-time winner against QPR that secured City the Premier League title on the final day of the 2011-12 season, which sums up how he produces when it matters in the really important games.
Judging from the way he and the rest of his team have started the season, there will be more of those for him at City. If they are going to have more success this year, he will play a huge part in it.
Alan Shearer was speaking to BBC Sport's Chris Bevan. Statistics compiled by Alex Bysouth.
Aguero the goal machine
Eric Brook scored his 177 goals in 494 games across 12 seasons for the Citizens. Aguero has raced to break the record in 264 games in seven seasons.
Aguero has scored against 30 of the 31 teams he has faced in the league, with the only exception being Bolton. Harry Kane has scored against 25/26 teams (only failing against Cardiff) and Romelu Lukaku 24/30 (with no goals against Chelsea, QPR, Wigan, Blackburn, Cardiff and Huddersfield).
Kane is the Premier League's top scorer so far this season with eight goals, scoring once every 99 minutes. Aguero has seven goals, but at an average of one every 78 minutes - the best ratio of any player to have scored four league goals or more in 2017-18.
Aguero's hat-trick against Watford on 16 September was his sixth in the Premier League - only Alan Shearer (11), Robbie Fowler (9), Michael Owen and Thierry Henry (8) have more.
He is 12th on the all-time Premier League goalscorers list, with Robin van Persie 11th on 144 goals and Teddy Sheringham 10th on 146.
The Argentina star has the most Premier League goals by a non-European player.
Former Southampton, Blackburn Rovers and Newcastle United forward Shearer is the only man to have hit 100 Premier League goals quicker than Aguero.