Mark Sampson: Next England manager should be female, says Kelly Smith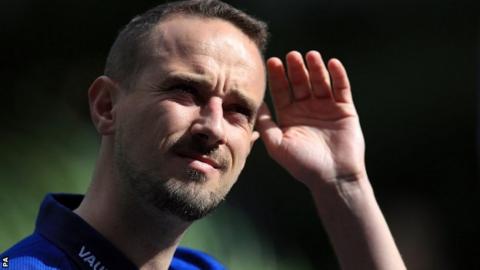 The England women's new coach should be female, says the national team's record goalscorer Kelly Smith.
Mark Sampson, 34, was sacked on Wednesday after evidence emerged of "inappropriate and unacceptable" behaviour in a previous role.
"I think they'll take their time on getting the right person, they can't be hasty," said Smith, who has ruled herself out of contention for the role.
"I'd like to see a female take over, but we'll have to see what happens."
Smith, who was capped 117 times and scored 46 goals, is not in the running to replace Sampson, although Manchester City's Nick Cushing, Chelsea's Emma Hayes and Seattle Reign's Laura Harvey are among the possible contenders.
Pauline Cope, England goalkeeper from 1995 to 2004, believes the Football Association will want to appoint a female coach.
"I don't think it matters, but the way the FA work, they won't want another man in charge now, that's how I see it," she told BBC Radio 5 live.
Asked to nominate a successor, Cope added: "For me, Mo Marley (head coach of England women's Under-19s) and Marieanne Spacey (England women's player and coach developer) at the moment. Long term Hayes because she is a brilliant manager, but she probably won't get it because she is outspoken and the FA probably want yes people."
Rachel Yankey, one of England's most-capped footballers with 129 appearances and studying for her Uefa A License, said: "I don't think it matters - the best person for the job. I don't think gender should come into it.
"It should be seen as the knowledge of who can run the team the best, and get the best out of the team. I don't think that matters whether you're a male or a female."
FA might look overseas - analysis
Tom Garry, BBC Sport
Chelsea Ladies' Emma Hayes is the most successful current female boss in the WSL, winning the double in 2015 and the Spring Series in June, but she can be outspoken and may not see eye-to-eye with all at the FA.
Given his recent success at Manchester City with a squad built largely with Lionesses, Nick Cushing will be a strong candidate, having won the WSL title in 2016 and the Women's FA Cup in May.
But the start of the new English top-flight campaign is imminent, so with bosses under contract, the FA may look to overseas-based coaches, including the highly-respected former Arsenal boss Laura Harvey - currently head coach of Seattle Reign - whose club season will conclude in October.
Should the FA look to promote from within their own set-up, either on an interim basis or long-term, then current England women Under-19s boss Mo Marley has been linked with the role, along with Marieanne Spacey, who assisted Sampson until moving to a player development role in June, and ex-Leeds boss Gemma Grainger - part of Sampson's coaching staff.
Alternatives include the current Canada women national team boss John Herdman - from County Durham - while Englishman Colin Bell won the 2014-15 Champions League with Frankfurt.
'Sampson situation needs independent review'
Meanwhile, Professional Footballers' Association chief Gordon Taylor said the Football Association's decision to employ Sampson needs an independent review.
According to the Women in Football group, the FA was warned about employing the former Bristol Academy coach.
"I just felt the more it carried on, it did need an independent inquiry," Taylor told BBC Sport.
"We have our own barristers who advise and the FA has theirs, but I think it's called for a really independent review - a fresh look, with what's coming out and what's happened this week.
"I think it needs a fresh pair of eyes to look at what's gone on. The main thing is you don't want players jeopardised in the future if they have any grievances or complaints.
"It's the same with any whistle blowers, you need to protect them, otherwise how are things going to improve?"
The Women in Football group said questions over Sampson's suitability were raised during his recruitment process in 2013, before his appointment in December of that year.
FA chief executive Martin Glenn, who took up his post in May 2015, said it was only last week that he read the full report which detailed safeguarding allegations made against Sampson in 2014 relating to his time as Bristol Academy manager.
A 2015 FA assessment found Sampson did not pose a risk.
The Welshman was also cleared this year of wrongdoing following discrimination allegations made by England players, including striker Eniola Aluko. Sampson denied the Chelsea player's claims.
Barrister Katharine Newton was asked by the FA to investigate the racist allegations. Glenn told The Guardian that the governing body had deliberately chosen a black woman, stating he feared, "two middle-aged-ish white people doing the inquiry may have seen some of the shades of the issue that Eni was trying to get at".
But the report also stated that Farrar & Co, the FA's solicitors, said that Newton's skin colour had been "utterly irrelevant".
Glenn added: "It could very well be the case that Mark said some crass things. I don't know, you won't know and I suspect no one will know.
"If it's true that he has made inappropriate comments to Eni Aluko and Drew Spence, I will apologise."
Minister for Sport Tracey Crouch described the situation as "a mess", while MP Damian Collins, who chairs the Digital, Culture, Media and Sport Committee, said "the system is flawed".
Former England international Danny Mills says that football's governing body needs restructuring.
In 2013, the 40-year-old was appointed on to the new FA Commission which was created to look at ways to improve English football.
Mills told BBC Radio 5 live: "The FA needs streamlining. It needs to be run like a business, with probably three people - maybe four - at the very top that have power.
"All those people that are aged over 60, 70, 80 - which is an awful lot of them - should do the right thing, resign their positions and allow proper people to run the game in a businesslike manner."
You can now add WSL 1 alerts for goals and results in the BBC Sport app.