Neil Warnock: Cardiff City boss backs early EFL transfer window closure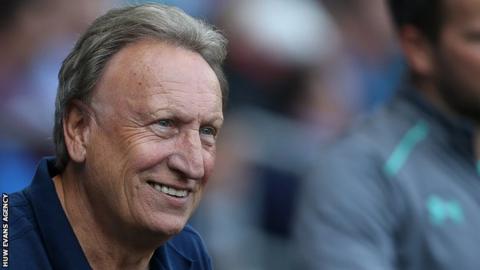 Cardiff City manger Neil Warnock has backed Football League moves to ensure the transfer window closes early at the start of next season.
EFL clubs will vote in February 2018, with Premier League clubs having already agreed to shut the window before the 2018-19 season starts.
Warnock wants Football League clubs to follow suit, saying: "Then it is down to manager's ability and not how much they have in the bank.
"I think it's a good leveller."
The plan was discussed at a meeting of all 72 EFL clubs and the outlined approach would shorten the existing window, but allow EFL clubs to sign players on loan until 31 August.
Warnock says such a move would have the effect of telling managers: "You have your squad and now use it until Christmas.
"Don't look at the first three or four games and say 'Can we have another £10m?'.
"Let's get on with it. Once we start we know we are not going to get disrupted."
The Premier League window will close on the Thursday before the top-flight season begins, but no date has been given for a proposed EFL deadline.
Warnock is anxious to avoid a repeat of the uncertainty which existed during the last window over striker Kenneth Zohore, who was the subject of approaches from Brighton and Everton.
Captain Sean Morrison was wanted by Sheffield Wednesday during the summer, but swiftly turned down the switch to the Championship rivals.
Cardiff go to Sunderland on Saturday, level on points with Leeds and Wolves at the top of the Championship table - and Morrison has no regrets about signing a new three-year contract to stay.
"I have always gone off my gut instinct. I knew what we were doing here was heading in the right direction from when the gaffer took over last October," he said.
"From there you could see the club on the up, the feeling around the club and the results started to change.
"I just knew it was something I wanted to be part of and the gaffer wanted me to be part of.
"It got squashed very quickly and I definitely, 100%, made the right decision."
'No excuses at Sunderland'
Cardiff, beaten just once in the Championship, are flying to Sunderland instead of travelling by bus.
With home games to follow against Leeds next Tuesday and Derby a week on Saturday, Warnock is delighted to cut down the travelling time.
"At this level you take every opportunity to try and benefit the squad.
"There will be no excuse at Sunderland, we cannot have another Preston performance (Cardiff lost 3-0) and say the travelling killed us because they are travelling first class really.
"All credit to the owners, they agreed to that and its great for me."