EFL 'request AFC Wimbledon observations' on reported failure to use MK Dons' full name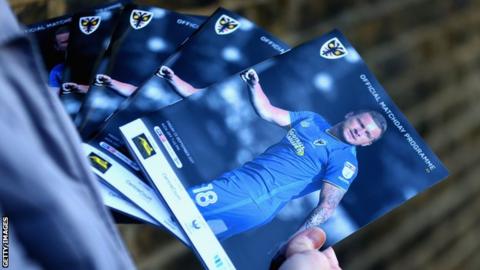 The English Football League says it will look into reports that AFC Wimbledon failed to recognise opponents MK Dons by their full name at their League One game on Friday.
Wimbledon referred to the away side as Milton Keynes or MK, and did not mention them on their programme cover.
AFC Wimbledon were formed in 2002 by Wimbledon FC supporters dismayed by the Football Association's choice to allow their club to move to Milton Keynes.
MK Dons won Friday's match 2-0.
The EFL says it "sought assurances" from Wimbledon before the game to ensure it would be "treated in a consistent and appropriate manner" after MK Dons were not referred to by their full name in a number of circumstances when the sides met at the Cherry Red Records Stadium last season.
Reformed club Wimbledon did not acknowledge the 'Dons' part of their opponents' name in their matchday programme when they last met in London in March.
"Following reports regarding Friday's fixture, it would appear that a similar situation has transpired and, as a result, the EFL board will request the observations of AFC Wimbledon at the earliest possible opportunity," a league statement said.
"The EFL is more than aware of the issues around the creation of MK Dons and the upset this caused for the then, Wimbledon FC.
"The failure to recognise MK Dons in the correct manner causes reputational issues for the EFL as well as creating the potential for unrest amongst MK Dons supporter and, as such, is of concern for the EFL."
The EFL pointed to regulations that all clubs are required to behave towards one another with the "utmost good faith" and not to "unfairly criticise, disparage, belittle or discredit" any other club.
A Wimbledon statement said: "Fans will have seen that the EFL has asked for our comments about aspects of Friday's game at the Cherry Red Records Stadium.
"We will be responding to the League in due course and until then we will make no further comment."