Garth Crooks' team of the week: Kane, Morata, Coutinho, Eriksen, Sane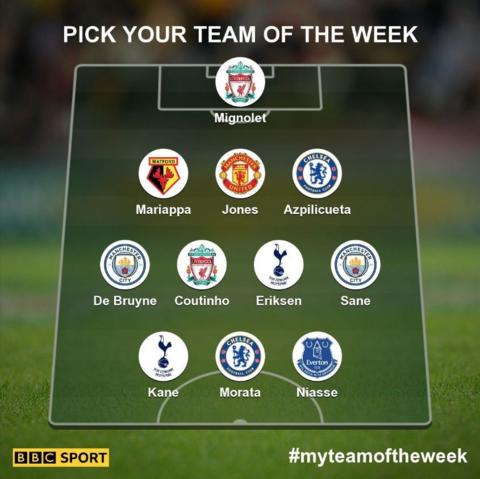 Manchester City are top of the Premier League after crushing Roy Hodgson's Crystal Palace 5-0, while Manchester United have also got 16 points from six games after a hard-fought 1-0 win over Southampton.
Alvaro Morata's hat-trick helped Chelsea win 4-0 at Stoke City and Liverpool battled to a thrilling 3-2 victory over Leicester City, as Jamie Vardy had a penalty saved.
Everton got a much-needed win with a 2-1 success over Bournemouth, Watford won 2-1 at Swansea, Brighton defeated Newcastle United 1-0 and Burnley versus Huddersfield ended in a goalless draw.
Goalkeeper - Simon Mignolet (Liverpool)
It's been some time since Simon Mignolet got into my team of the week and that's probably because of Liverpool's wretched defending. If you are going to have to score three goals away from home to win a football match, it's going to take its toll on every member of the team, including your goalkeeper.
Such was the case against Leicester, who counter-attacked with devastating effect and constantly ripped holes in Liverpool's defence, especially on set-pieces. It seems to me that Jurgen Klopp is getting away with results because of moments of magic by certain individuals, but risks losing it all by abject defending.
That seemed to be the story behind this victory by Liverpool over Leicester. Mignolet, having already conceded two goals, was left totally exposed again after a through ball by Leicester's Andy King which found another gaping hole in Liverpool's defence. Having clattered Vardy, Mignolet was not only lucky to stay on the pitch but produced that moment all strikers dread and saved the penalty to give his team the three points. Did the Reds deserve the victory? Probably not but when did justice ever dominate a football match.
Defender - Cesar Azpilicueta (Chelsea)
He's only done it again. Cesar Azpilicueta keeps producing match-winning passes. His first ball was, in my view, the pass of the match. The Spain international split Stoke City's defence in two and sent Alvaro Morata on his way to claim his first goal of the game.
As for Azpilicueta's second assist, you will have to explain to me how the defender found himself so far up the pitch in open play. Granted, it started with a free-kick but to see the Spaniard burst through Stoke's defensive ranks and lay a gift-wrapped chest pass for Morata to finish was pure quality.
Stoke on the other hand, although they lost, deserve some praise for taking the champions on at their own game. Mark Hughes didn't duck the challenge by bringing out the heavy mob and applying bully-boy tactics, which we have seen from him in the past against Chelsea. I also never thought I would see Mike Dean apply the sort of common sense normally associated with Champions League officials.
I've seen Dean destroy games by over-officiating but he applied restraint when the home crowd were asking for the dismissal of Marcos Alonso after repeated clashes with Mame Biram Diouf. Referees, like players, are prone to playing to the crowd. It was very refreshing to see Dean retain a sense of proportion for a change and not bow to the wishes of the home support.
Defender - Phil Jones (Manchester United)
This was a very solid performance by the entire United back four but on this occasion it was marshalled and led by Phil Jones at the heart of their defence. The England international is having a decent run of games at the moment. I have already gone on record and said if United are going to win the league title they are going to need a fully fit Jones for much of it.
Southampton were unlucky not to get something out of this game and without some resolute defending by the visitors it might have been a different proposition entirely. However, this was Jose Mourinho at his best. He sensed that his bunch of exceptionally talented individuals were not having it all their own way and if they were going to get anything out of this fixture then they were going to have to dig in.
It was the performance by Jones that stood out for me. He's now staying on his feet far more than when he first arrived at Old Trafford and doesn't go crashing into opponents needlessly anymore, which probably accounts for his clean bill of health. As for the sending off of Mourinho from the touchline for what appeared to be over exuberance towards the end of the game, I can't work out who was vying for more than his fair share of the spotlight: the fourth official who alerted the referee to the issue, referee Craig Pawson for sending United's manager off or Mourinho for shaking all the hands of the Southampton bench prior to his departure. What a bunch.
Defender - Adrian Mariappa (Watford)
With the game tightly poised at 1-1 you had to display nerves of steel if you were a defender in either of the Swansea or Watford teams. However, it was Adrian Mariappa who showed the sort of courage that wins matches. It was Mariappa's block on Tammy Abraham that won Watford the points. The challenge was so emphatic by the Watford defender I don't think a Chieftain tank could have got past him.
What a contrast in Swansea's defensive ranks; Roque Mesa messed up big time with a square pass inside his own defence that started the calamity, only for Alfie Mawson to uncharacteristically lose his nerve and not win the ball overran by the eventual goalscorer Richarlison. Some pundits thought, with a minute to go, Mawson should have brought Richarlison down but the Brazilian's touch was so poor prior to his eventual finish that Mawson didn't need to be so dramatic - he just had to win the ball.
This defeat by Watford clearly left manager Paul Clement extremely frustrated but if he can sort Wilfred Bony out and get his confidence back then, with Tammy Abraham and Jordan Ayew, they should have enough firepower to stay in the league.
Midfielder - Leroy Sane (Manchester City)
BBC commentator Steve Bower nailed it when he said the game needed a moment of magic and Leroy Sane provided it. City had already knocked Watford for six so Roy Hodgson must have had a difficult night's sleep before his team took on Manchester City at the Etihad Stadium. Yet Palace should have had two goals before City fans had stopped singing 'Blue Moon'.
If Ruben Loftus-Cheek is going to be a player he must be better in front of goal. The moment those two opportunities went begging Palace were dead men. Sane's finish was a touch of class and epitomised how the game has changed over the years. In my playing days the goalkeeper would have taken Sane out and left the young man in an agonising heap. Stretching to get a final touch to score a goal in the '80s and '90s was tantamount to a death wish. I can name numerous goalkeepers who would have taught the youngster a serious lesson in self-preservation for such audaciousness. Nevertheless, the powers that be are determined to clean the game up and quite rightly.
Midfielder - Christian Eriksen (Tottenham)
This player is as valuable to Tottenham's fortunes as Philippe Coutinho is to Liverpool's. Their games are not too dissimilar either. Both love the ball at their feet, they can see the early pass, long and short, and they love to score goals. Simply, they have all the ingredients of a top-class midfield player. What I love about Eriksen is his ability to make things look easy. His goal against West Ham was technically a very difficult finish but dispatched with such consummate ease.
Mauricio Pochettino decided to sacrifice Eriksen in a tactical switch after 73 minutes to compensate for the dismissal of Serge Aurier. I understand the decision but the moment Eriksen went off Tottenham's ability to retain the ball disappeared and it was down to more luck than judgement that Spurs came away with all three points. Aurier is a very good defender who simply needs direction. Should he have gone? Probably, but it could so easily have been avoided by one of his team-mates quietly taking him to one side, explaining to him there are times when you can afford to let the opposition have the ball; you don't have to win every tackle. Just the ones that matter.
Midfielder - Philippe Coutinho (Liverpool)
Philippe Coutinho is back, if you were in any doubt (and I was). The ball for Mohamed Salah to open the scoring for Liverpool was sensational, the cross was so perfect it destroyed Leicester's Ben Chilwell. The full-back was perfectly entitled to think there was no danger of Salah getting his head on the ball but the defender didn't take into consideration that Coutinho is a genius and when you have people like him on the ball you take no chances.
Of course, Chilwell and Leicester paid the price for thinking Coutinho is a mere mortal, but just when you thought Leicester might get back into the game the Brazilian struck again with the most sublime free-kick. To see a goalkeeper of Kasper Schmeichel's quality still flying through the air with the ball having passed him told you everything you needed to know about the quality of Coutinho's free kick. I must be honest, I thought Liverpool had lost Coutinho to Barcelona and the club must have done something very special to convince him to stay. I love to watch the Brazilian play every week so thank you, Liverpool. This player is what football is all about.
Midfielder - Kevin de Bruyne (Manchester City)
I can hardly go through any game involving Manchester City without mentioning the name Kevin de Bruyne. I said two years ago, after a Football Focus interview with the player, that he was the future at the club and I see no reason to change my position. To replace the goals and assists of Yaya Toure was a big task for City but De Bruyne has filled that void.
The ball to Sergio Aguero from the Belgium international was simply sensational but the touch for Raheem Sterling from the Argentine striker for Sterling's second goal of the match suggested something much more interesting is going on than goals at City. Aguero is one of the best finishers in the world and yet featured in all of Manchester City's first three goals as their provider. What's more he looks leaner and sharper than I have seen him for some time.
There is no doubt in my mind that coach Pep Guardiola, who comes to work dressed like he's going to a family barbecue on a Sunday afternoon, has his entire team playing a far better all-round game than I have seen to date, even under Manuel Pellegrini. There is no secret that Guardiola has had some difficulty imposing his authority on some big names and strong characters at the club but it would appear he has won that battle. Getting City to play in the mould of Barcelona and win the Premier League title at the same time would be a major achievement. I personally don't think it is achievable but it would be amazing football to watch if they did.
Forward - Oumar Niasse (Everton)
At a time when Everton are desperately looking for someone to replace Romelu Lukaku, up pops Oumar Niasse. I remember seeing Niasse play for Hull but he looked a completely different player to the one I remember playing for the Tigers. He looked fit for a start, his movement was great and if the response from Everton coach and former striker Duncan Ferguson was anything to go by the Senegal international is listening to his coaching sessions.
Niasse thundered his shot past Asmir Begovic for his first goal and was brave in his attempt to score his second. The debate about the challenge by Simon Francis on Wayne Rooney is an interesting one. There is no doubt in my mind that Francis was reckless. Defenders cannot go for an aerial challenge using their arms to propel themselves forward, split the opponent's eyebrow and then claim the player ran into his elbow. It's absurd. The whole point of the defender challenging in that manner is to protect himself from the ensuing striker but also to issue a warning that if you do go for the aerial challenge you run the risk of getting what Rooney got - a split eyebrow.
Rooney made it absolutely clear to referee Martin Atkinson that it was the fourth time the Bournemouth centre-back had challenged in that fashion and the referee did not penalise the one that caused all the damage. It's all well and good Francis trying these dangerous manoeuvres with the likes of Rooney. Had Francis been playing against Duncan Ferguson I suspect it would have been Francis leaving the field of play, but on a stretcher.
Forward - Alvaro Morata (Chelsea)
It's official. The King is dead, long live the King. Diego Costa has now gone to Atletico Madrid. Stamford Bridge has a new centre-forward plying his trade and another top-class striker for their fans to worship and his name is Alvaro Morata.
The Blues have had them in the past of course; Peter Osgood, Didier Drogba, Costa and now Morata is the latest hero to be adored. His performance against Stoke was so stylish and his movement so graceful it seemed like his entire game was carefully choreographed like a dressage stallion. What a change in approach by Chelsea from the raging bull that was Diego Costa.
Antonio Conte now has a striker that is far less difficult to manage and reflects the elegant manner in which the Italian manager likes to play. I must say I thought last week Chelsea needed a raging bull like Costa against a well-organised Arsenal but that approach can also prove to be very costly. Instead, Chelsea have invested wisely in Morata. As for Stoke, well John Motson said it all really. Chelsea wiped the floor with them and much of that performance was down to Morata.
Forward - Harry Kane (Tottenham)
Great ball by Dele Alli, great header by Harry Kane. Spurs ripped West Ham to shreds in a matter of minutes and there was nothing the Hammers could do about it. In fact it might have been 4-0 if Kane's free-kick hadn't hit the post. Kane is looking imperious at the moment. He has a wonderful attitude towards the game and appears a model professional. However, all this nonsense about winning the Ballon d'Or is a mere distraction. Winning a trophy with Spurs is all that matters at the moment.
If Kane cannot deliver that then he and his manager Mauricio Pochettino can forget Ballon d'Ors . Let us not forget that Kane is competing with Lionel Messi, Neymar, Luis Suarez, Robert Lewandowski, Gonzalo Higuain and of course Cristiano Ronaldo. If he can somehow get through that lot then he will have had one hell of a season and deserve the trophy. But his success must depend on at least a Premier League title or something significant on a European scale. Anything less just won't cut it.