Jurgen Klopp: Liverpool boss endures awkward Champions League conference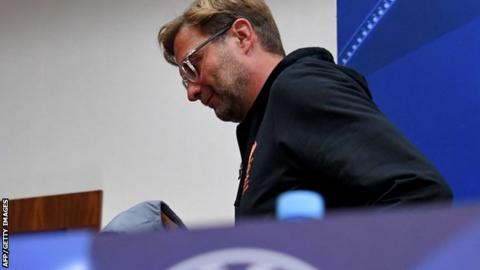 Liverpool manager Jurgen Klopp endured an awkward end to his Champions League news conference in Moscow, describing one question as a "waste of time".
Klopp, whose side face Spartak Moscow at 19:45 BST on Tuesday, was asked if he was in love with any of his players.
It was a reference to Tottenham boss Mauricio Pochettino saying he loved striker Harry Kane on Saturday.
"I am really impressed that we're in a Champions League press conference and talking about this," said the German.
"I really don't understand the business any more," Klopp said on Monday, adding the question and his subsequent answer "were not important for Russia".
"It was just an English thing. Pochettino loves Kane and who do I love? That's the question? A waste of time."
Liverpool drew their opening Group E match 2-2 with Sevilla at Anfield, while Spartak conceded a late equaliser in a 1-1 draw at Maribor.