Women's Super League: FA approves one-tier, full-time structure for 2018-19
Last updated on .From the section Women's Football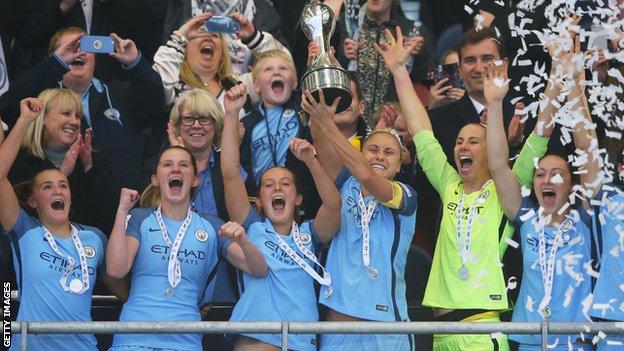 The top tier of English women's football will be only for full-time clubs from 2018-19 after proposed changes to Women's Super League licences were approved by the FA.
All clubs must re-apply for their places, while new teams could earn licences to join the top tier that will have between eight and 14 teams.
Top-flight clubs will be required to run an academy under the new criteria.
The FA is also looking into how the new leagues could be rebranded.
Current WSL clubs have until 10 November to submit their applications, which will be reviewed by the FA women's board in December.
Teams outside the top two tiers will be invited to apply in March 2018.
In their statement the FA said the restructure was aimed at creating a "stronger commercial model" and to "improve the performance of the women's game on and off the pitch".
"The changes will continue our journey to transform key elements of the women's game," said Katie Brazier, the FA's head of women's leagues and competitions.
"It will provide an elite performance environment that will produce more and better players, increase the interest and excitement via a more competitive league, attract a greater number of fans and in turn deliver improved commercial viability for clubs and the leagues."
What will the new licence criteria be?
The changes will see between eight and 14 teams with full-time professional players in the WSL, depending on how many clubs successfully meet the application criteria, which include:
A minimum of 16 contact hours per week for players, rising to 20 hours per week by 2020-21

A minimum level of financial investment required by each club

Financial Fair Play regulations and a squad cap

An academy at each club, compulsory as part of the licence
Rules restricting the number of non-English qualified players in matchday squads will also be continued as the FA bids to enhance opportunities for home-grown talent.
An entirely full-time top-flight women's league will be a rarity in European women's football, with most major nations having fewer than three professional clubs.
New second tier with a new name
BBC Sport understands one aim of the changes to the WSL is to provide a clear distinction between the professional and semi-professional tiers of the women's game in England.
The new second tier, separate to the WSL, would include:
Between 10 and 12 teams, consisting of part-time players

Contact time for players of eight hours per week plus matches

A reserve team operated by each club, but no strict requirement to run an academy
The regional divisions of the Women's Premier League will remain as the third and fourth tier within the English women's football pyramid.
What does the WSL look like currently?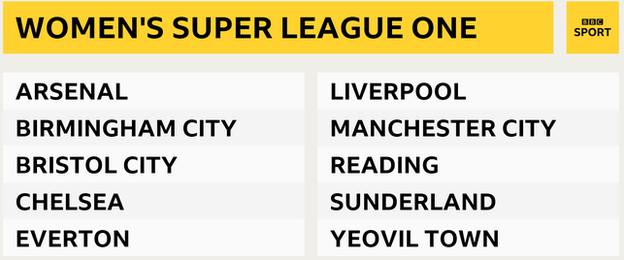 For the 2017-18 season, there are 20 teams in the WSL, with 10 teams in WSL 1 and 10 in WSL 2.
The WSL has expanded gradually since it began with just eight teams in 2011, introducing a second tier in 2014.
Earlier in 2017, Tottenham Hotspur Ladies became the third side to win promotion to the WSL format, following Sheffield FC and Brighton.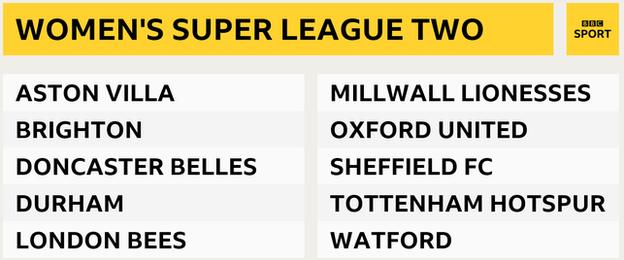 In April, top-flight Notts County Ladies folded on the eve of the 2017 Spring Series, leaving players "jobless and homeless".
That prompted the FA to invite WSL 2 clubs to bid to replace Notts in the top tier and, in June, Everton Ladies - winners of the WSL 2 Spring Series - were confirmed as the successful bidders.
Everton have since stepped up to full-time status, but some other clubs in the existing top division still operate on a part-time basis.
Could any new clubs join the top tier?
When the WSL was expanded to include a second tier in 2014, Doncaster Rovers Belles were controversially replaced by then WSL newcomers Manchester City because the Belles did not retain a top-tier licence upon reapplication.
BBC Sport understands some currently part-time clubs are uneasy about the prospect of their 2018-19 league status being determined by off-field criteria over their league results when they reapply.
The 2017-18 WSL season began on Friday, 22 September, with Arsenal, Chelsea, Liverpool and Manchester City earning wins on the opening weekend in the top flight.
You can now add WSL 1 notifications for line-ups, goals, kick-off, half-time and results in the BBC Sport app. Visit this page to find out how to sign-up.