'What happens in Vegas, stays in Vegas,' says Rangers manager Pedro Caixinha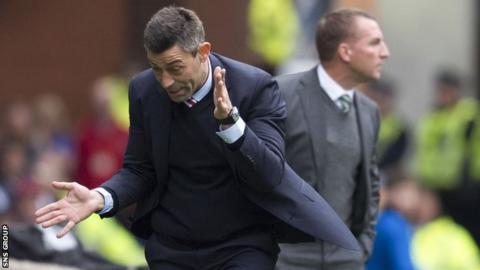 Rangers manager Pedro Caixinha insists he is "totally comfortable" with his relationship with his squad.
The Portuguese was asked about reports of his fierce criticism of his players after Saturday's 2-0 loss to Celtic.
"Have you ever been in Las Vegas? What happens in Las Vegas, stays in Las Vegas," he said. "I'm a confident guy.
"If the things are coming out it's because someone didn't like the game that we play in Las Vegas, that's all so I am happy with that."
Caixinha explained his post-match debrief, saying: "Normally, I always finish with one question. Does someone have something to say? Normally, we never receive one answer. But we encourage with questions, with facts, with the analysis, with more on the cognitive side and how to take decisions.
"I can tell you what I can tell you. I'm not going to tell you what I don't want to tell you because it's private.
"I'm totally comfortably. Las Vegas is a great city. You enjoy too much but what happens there needs to stay there."
Caixinha also denied making any comments about midfielder Carlos Pena's fitness after the defeat by Celtic, the 27-year-old having been substituted in the derby.
"I didn't say that after the game," Caixinha said.
"When I was young, the boys used to call me elephant. You know why? Because elephants have a great memory and I have a great memory so I know exactly what I say in each one of the moments.
"I said that about Carlos when we had the team picture at Ibrox, and I said Carlos would need to improve at that moment in time. I never said it after the match.
"In that specific action we identified that he needs to improve - he still needs to improve."
Caixinha's predecessor Mark Warburton left Rangers in February and the former Santos Laguna and Al Gharafa boss was appointed the following month.
Warburton had got Rangers promoted by winning the Scottish Championship in his only full season in charge but the Ibrox side, who had been placed in the fourth tier in 2012 following financial collapse, found themselves struggling to compete with Aberdeen last season.
The Dons eventually sealed the runners-up spot behind champions Celtic in the Premiership and Derek McInnes' side are already six points ahead of Rangers this season - two behind leaders Celtic. St Johnstone and Hibernian also boast a better points tally than fifth-placed Rangers after seven games.
"Everybody knows what we are doing here in Rangers and we know what we are facing - that we are facing one of the biggest challenges in the history of football," added Caixinha.
"What passed to Rangers is unique in the world and the way we are coming back and we know that we have that vision and we are working hard in that direction, that's what really matters.
"That's what really makes me get out of my bed early in the morning and get tired because we worked all day long and know that it was one more day in the direction we want to take the club.
"When you change a lot of things, that means that everyone needs to be ready for the change and you need to be persistent to have that chance, so that's what I'm doing."