Plymouth Argyle keeper Kyle Letheren makes debut eight years after first joining club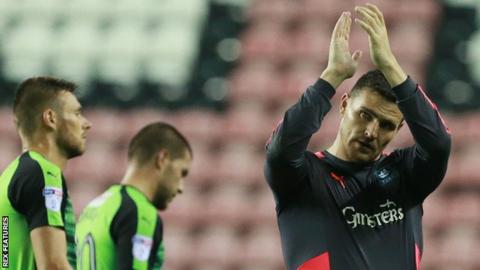 It is said that patience is a virtue - and one player who knows plenty about being patient is Plymouth goalkeeper Kyle Letheren.
He finally made his first-team debut for Argyle against Wigan Athletic on Tuesday - eight years, one month and 19 days after first joining the club.
The 29-year-old seized his opportunity with a series of fine saves.
Ultimately, though, he was beaten from the penalty spot as his side suffered a 1-0 defeat and slipped to the bottom of the League One table.
"There's loads of positives in that (performance). They're going to be up there this year, but I thought we contained them really well," he told BBC Radio Devon.
"I had to make a few saves but I knew that (would happen) coming into this game anyway - and I've had to wait eight years for that.
"It's nice to show people I'm capable of playing at this level, that's what I came here to do. I'm glad I've proved a few people wrong."
Letheren - who has made more than 200 appearances at other clubs - was put on notice that he might be playing when first-choice Luke McCormick told him on Monday that he had an injury.
"The gaffer didn't tell me, but Luke wasn't on the bus on the way up, so I knew I had a good chance," he said.
The former Wales Under-21 international first joined Plymouth in 2009 but after failing to force his way into the team, he left a year later for spells with Kilmarnock, Dundee, Blackpool and non-league York.
He returned to Home Park on a free transfer earlier this month, but did not expect to be given his chance so soon.
"I was brave to wait for the right opportunity. I had offers to go and play back in Scotland or maybe stay in the National League, but it's not what I wanted to do," said Letheren.
"My father, who's been a big guidance in my career, said 'look, stay strong, you might not get a club till October, but when something comes up, you've got to grab the chance'.
The match was Letheren's first since playing at Wembley in York's FA Trophy final defeat by Macclesfield in May.
But he accepts it could be his last for a while, depending on the extent of McCormick's injury.
"If the gaffer decides to put him back in he'll hear nothing from me, I've done what I can do. He's the club captain so if he goes back in, he goes back in, that's part and parcel of football," he added.
And what was manager Derek Adams' verdict on his deputy keeper's performance?
"He was accomplished in his performance," the Scot said. "Coming here for the first time with us, his first appearance, it's not easy and against a very good team.
"He's a very good goalkeeper, he's experienced and knows how to play the game."