Yeovil Town Ladies need to raise £350,000 to meet new WSL criteria - Jenkins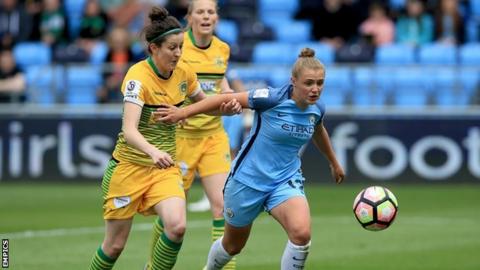 Yeovil Town Ladies general manager Trevor Jenkins says the club needs to raise more than £350,000 in order to become a professional club in next season's Women's Super League One.
The top division is to become a full-time professional league from the 2018-19 season with clubs having to submit applications by 10 November.
The part-time Lady Glovers won promotion to the top flight in 2016.
"Our ambition is to become a full-time professional club," Jenkins said.
All current WSL 1 clubs must re-apply for their places for next season with the top flight set to feature between eight and 14 teams.
A number of criteria have to be met, including a minimum contracts of 16 hours a week for players and clubs having an academy.
The Lady Glovers currently have no professional players, nor do they have an academy system in place, and their biggest expense if they turn professional is likely to be wages.
"The FA want the top tier to become a full-time professional league and we fully support that," Jenkins told BBC Radio Somerset.
"Where our challenge lies is the timeframe and the limited amount of time we've got to raise, effectively, over £350,000 to make sure we remain in the top tier.
"We have got plans to become full-time and, unfortunately, finances are often the big barrier to that."
'We had a three-year plan'
On Thursday, chairman Stephen Allinson added: "I am disappointed for everyone connected with Yeovil Town Ladies, given what we have achieved.
"We have got ourselves in to WSL 1 by football merit, with a mixture of students, teachers, community workers and carers. We've done that by beating, in WSL 2, a couple of teams who were full-time.
"I don't object the thought of wanting to go full-time, but over time. We set out a three-year plan.
"But to suddenly impose it in the middle of a season, with a decision to be made midway through it, seems to me to be absolutely wrong. These things need to be evolving, not dictated over a certain timescale."
'Yeovil's men 'unable' to inject funds'
A statement from Yeovil Town's men's club added: "Yeovil Town Football Club [YTFC] shares the disappointment expressed by Yeovil Town Ladies.
"As has been understood by all parties for a number of years, Yeovil Town is not in a position to inject funds into Yeovil Town Ladies because the reality is that any funds provided would have to come at the cost of the club's own budget.
"Helping where possible, Huish Park currently hosts home WSL games, with YTFC the only EFL or Premier League outfit to host all their female counterparts' WSL 1 league games in the club's main stadium.
"Although there is a charge for this, it is substantially below - in some cases 75% less - than the normal fee charged for the hire of Huish Park and at best is a break-even exercise.
"As required by the WSL license process, Yeovil Town Ladies FC is an independent, privately-owned company with a separate owner and board of directors (none of whom hold any positions with Yeovil Town FC). YTFC is proud to work alongside YTLFC and will continue to help and assist where possible."
Since the FA's announcement, current third-tier club West Ham Ladies have confirmed their intention to apply to join the new top tier, while Derby County Ladies have also welcomed the news.
You can now add WSL 1 notifications for line-ups, goals, kick-off, half-time and results in the BBC Sport app. Visit this page to find out how to sign-up.