Nadia Nadim: Manchester City Women sign Denmark striker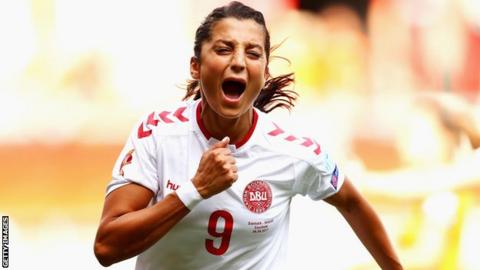 Women's Super League champions Manchester City have signed Denmark international Nadia Nadim.
The 29-year-old Afghanistan-born forward will join City in January, after finishing the season with her current club, Portland Thorns, in the United States.
Nadim was part of the Danish squad who were beaten in the final of Euro 2017 by hosts Netherlands.
"I always wanted to come back to Europe to play for a big team," she said.
"I'm honoured to join Man City because it's one of the biggest clubs in Europe. Being a part of that and contributing to the goals they have is a dream come true."
Nadim fled her home country with her mother and four sisters at the age of 12. "When the Taliban gained power, my dad was executed so that made us flee the country," she explained.
They arrived at a refugee camp in Denmark, where she first started playing football, and she now has 74 international caps and 22 goals for her adoptive country.
While playing in the National Women's Soccer League in America, Nadim has also been studying at medical school.
"In the off season I try to continue my schooling and during the season I try and concentrate on football," she told BBC Sport.
"I love playing football, it's my hobby, but I want to have something besides it. Some day when I'm done and I become a doctor, I'll be really glad I did study.
"It's always important to have something to fall back on and it's important to be stimulated. I need that to feel happy. No matter what you do, there should be a balance in life and I tend to get bored easily."
Nadim has spent the last year playing for Portland Thorns, who are second in the league, and has scored five goals this season.
"I love it here in Portland and I've been in the US for three years now, but it wasn't a super hard decision for me to make as I feel like I've learnt a lot and grown as a person," she added.
"It looks like now we could win the league here, so it's time for me to get a new challenge and grow as a player."
You can now add WSL 1 notifications for line-ups, goals, kick-off, half-time and results in the BBC Sport app. Visit this page to find out how to sign-up.