'Outstanding' Celtic delight Brendan Rodgers after 3-0 win over Anderlecht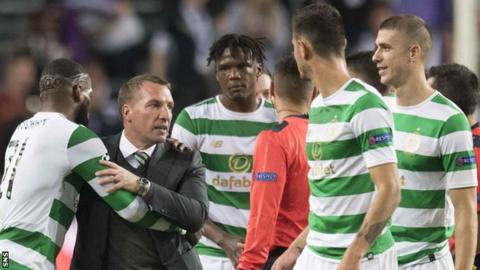 Manager Brendan Rodgers described Celtic's 3-0 away win over Anderlecht as "absolutely exceptional".
It was the club's second ever away group stage win in the competition and the first Champions League group win of Rodgers' reign as manager.
The result puts Celtic level on points with Bayern Munich, who lost 3-0 to Paris St-Germain in the other Group B match.
"It was an outstanding performance and result," said Rodgers.
"It was a real pressure game for us. It was a brilliant team performance.
"For a Scottish team to come away, get a 3-0 victory, [and] keep a clean sheet at this level is obviously a big achievement. This is a huge jump from where we're coming from into this level.
"We can be better. I believe we can be better than we were tonight.
"At this level, it's all about the belief. You're playing against top-class players, fantastic clubs - a club like Anderlecht with a huge history and the Belgian champions.
"For our guys to show what they've done in the last 12 months and improve is great credit to them. They'll gain belief, they'll gain confidence, but they'll also know that we want to continually improve."
Leigh Griffiths scored Celtic's first-half opener from Kieran Tierney's low cross, Patrick Roberts' shot deflected into the net off Kara Mbodji and Scott Sinclair fired the visitors' third late on.
"They were absolutely exceptional," said Rodgers, whose side had opened Group B with a 5-0 home defeat by PSG.
"You see the fitness and everything of the players. When we scored the third goal we've got five players in the box - all in good position, protecting the middle of our pitch and having that speed and ability to break away and score.
"We get our first goal from a great move. From that point, certainly offensively, we were a real threat.
"Lots of people look at all the goals we score and the creativity we have, but we have a defensive philosophy that's really about being aggressive and being compact and you saw that tonight.
"You saw the concentration of the players - how many times Anderlecht were caught offside, our defensive line was very good.
"As a team then we were very, very good defensively."
However, Rodgers played down the suggestion Celtic were now favourites to finish third in the group and secure European football in the New Year.
"Not really," he replied when asked about whether Celtic had taken a significant step towards clinching third place.
"There's a long way to go in the group. PSG, did they win 3-0? So maybe our 5-0 wasn't too bad. We might get a wee bit of credit somewhere along the line."