Women's Super League: Restructure can help make league best in world - Katie Brazier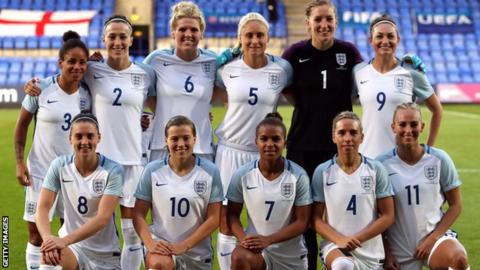 The restructure of the Women's Super League from 2018-19 can help it become the world's best women's league, the Football Association believes.
The top tier will be only for full-time clubs, under new WSL licence criteria.
There will be up to 14 teams in England's top division, run by the FA.
"This is the next piece of the jigsaw," Katie Brazier, the FA's head of women's competitions, told BBC Sport. "We want a really competitive league, so that results are more unpredictable."
The WSL, which began with eight teams in 2011 and expanded to include a second tier in 2014, has switched from a summer to a winter calendar in 2017-18.
All clubs must now reapply for their space for next season by 10 November.
"It is a very important move and quite a bold step - to make the top tier fully professional," added Brazier. "It probably would have happened organically but it would have taken an awful lot longer.
"We are making great progress on the international scene and we want to maintain that momentum and not lose any ground, because the Euros clearly showed that other countries are making great strides as well."
'A very difficult challenge'
It is unclear how many of the existing 20 WSL clubs - who will have priority in applications prior to a window for non-WSL clubs - will be able to generate the sufficient funds to meet the new criteria, which include a requirement to run a youth academy.
Football finance expert Rob Wilson, from Sheffield Hallam University, told BBC Sport: "Going full-time is a big challenge and will be very difficult.
"At the moment, women's teams make next to no money at all. For example, Manchester City Women are underwritten by the City Football Group.
"The challenge is to generate revenue via television broadcasting, commercial partners and sponsors. So they need to generate a decent product, including improving crowds, and sponsors will follow.
"I broadly support these plans because they will have social and community factors at a grassroots level. Growth at a grassroots level should follow and therefore communities benefit.
"The WSL could follow the model of rugby union in England, where the investment in the English game is largely driven by the national team, commercially, whereas in men's football, the commercial investment is largely driven by the clubs.
"With more investments in the women's national team, the money should filter down to the women's clubs."
'A lot of investment - not a lot of return'
Asked if the the new league could be seen as the best in the world in the future, Brazier replied: "Absolutely, that's of course what we are striving to do.
"One of our biggest challenges at the moment is getting to a point where the top two levels of the game are commercially viable.
"At the moment it requires a lot of investment for not a huge amount of return, and we want to get to a stage where it becomes self-sustainable."
Yeovil Town Ladies, a part-time WSL 1 club which won promotion to the top tier in 2016, have said they need to raise more than £350,000 in order to meet the criteria for the top league in 2018-19.
"For some clubs it won't be a step that they can make right now," Brazier admitted.
"However, clubs at county level right up to the WSL are incredibly important to us in the whole pyramid structure as a whole.
"We committed to all of the clubs that we will provide as much support as we possible can, to help them grow and develop their businesses so they can make that move when they are ready."
How will the licensing process work?
Promotion and relegation between the two existing 10-team divisions of the WSL has been removed for the 2017-18 season, which began on 22 September.
The FA is also looking into how the new leagues could be rebranded, with the new, part-time second tier set to be a national league, above the regional third tier.
But Brazier expects promotion and relegation to return for the entire women's pyramid from 2018-19.
"That's really important," she continued. "Promotion and relegation across the whole of the pyramid is really important to us."
Subject to availability, sides from outside the WSL can apply for a place in either of the top two new divisions in March 2018.
West Ham - a third-tier outfit for 2017-18 - have already said they will bid for a licence for the top league.
You can now add WSL 1 notifications for line-ups, goals, kick-off, half-time and results in the BBC Sport app. Visit this page to find out how to sign-up.