Kevin Doyle: Republic of Ireland striker retires over 'repeated headaches'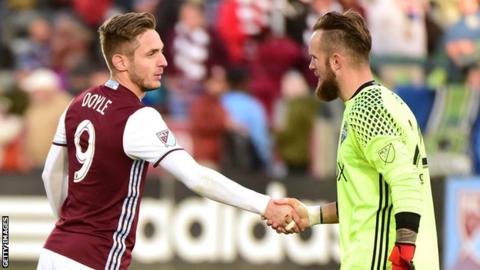 Republic of Ireland striker Kevin Doyle has retired because of "repeated headaches" caused by heading the ball.
The 34-year-old forward, who had been playing for American Major League Soccer side Colorado Rapids, won 63 caps for his country.
Doyle said he wanted "to avoid the possibility of these symptoms becoming more serious and permanent".
The ex-Reading and Wolves player made the decision having suffered "numerous" concussions over his 15-year career.
"This year it has been clear to me that heading the ball was becoming problematic and causing me to have repeated headaches," Doyle added.
"Two concussions this season and numerous others over the years have made this more concerning.
"I'm sad to announce that after listening to medical advice I will play no further part this season and will be retiring.
"I will take this opportunity to thank everyone who has supported me during my career, especially my family, all the coaches and team-mates I've had and the fans of any team I've played for, whether in Ireland, the UK or the USA."
Earlier this year the Professional Footballers' Association and the Football Association announced they were inviting applications for independent research into the of brain injuries caused by football.