Pedro Caixinha must guide Rangers to a win over Hamilton - Barry Ferguson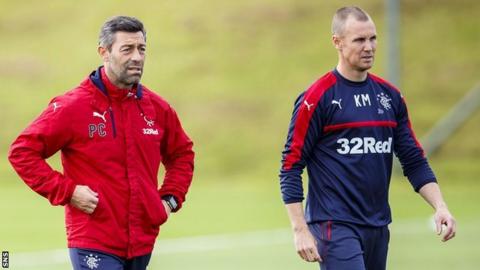 Former Rangers skipper Barry Ferguson believes the pressure is on Ibrox manager Pedro Caixinha to guide the team to a win over Hamilton on Friday.
"It's simple - they need to win the game. That's all I can say, after last week's disappointing performance," Ferguson told BBC Radio Scotland, referring to the 2-0 defeat by Celtic.
"He needs to go and get a win.
"He's had his meeting [with the squad]. Let's see if the players are up for getting a result at New Douglas Park."
Ferguson lamented his former team's showing at Ibrox against the league leaders last Saturday.
"I don't think Rangers got anywhere near Celtic. Maybe the last 15 minutes of the first half was OK but after that Celtic were in complete control.
"Celtic strolled it. They were comfy. Lay a glove, go and get a reaction, at least get the fans on your side.
"For me, he needs to go and get three points at New Douglas Park, which is difficult because Hamilton are decent on their home patch."
Reports emerged during the week that Caixinha had an angry meeting with his players at their Auchenhowie training base in the wake of the Old Firm defeat.
Ferguson, who had a dressing room fall-out with Paul Le Guen when the Frenchman was the Light Blues boss, said: "If you've had a bad result against your fiercest rivals, there is always going to be a meeting on Monday.
"The players have their say, have a wee go at each other, which is fine, but the manager has the final say.
"It's obvious the players didn't get much to say and that the manager said everything.
"I think it's sometimes best for the players to sort it out themselves, between them.
"The performances have not been great. Obviously there's a problem."
The former Scotland captain said the Portuguese was wrong to omit veteran striker Kenny Miller from the game against Celtic.
"Kenny Miller knows what it's all about," Ferguson told Sportsound listeners.
"He knows what's needed to play against Celtic. It was a massive mistake to leave him out.
"Kenny's a big character, he speaks his mind, he's a passionate guy, but I find it strange that he's left out."