Amiens v Lille: Fans injured as barrier collapses at Ligue 1 match
Last updated on .From the section European Football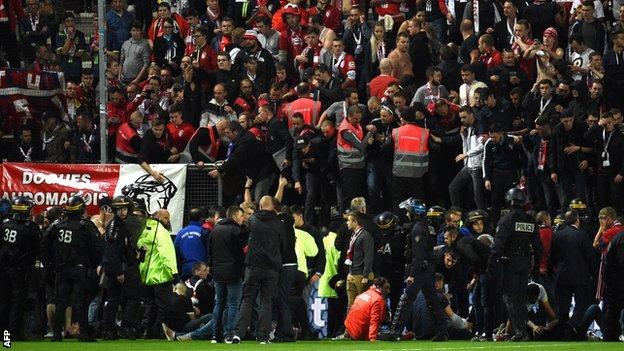 Five fans were seriously injured when a barrier collapsed at the front of a stand during a French top-flight match.
At least 29 people were hurt in the incident, which occurred in the 16th minute of Amiens' Ligue 1 match with Lille at the Stade de la Licorne.
A barrier in front of the away section buckled as fans celebrated Fode Ballo-Toure's goal, and dozens fell about one and a half metres onto the pitch.
The match was abandoned and the stadium evacuated after a security meeting.
The local prosecutor said he had opened an investigation into the incident.
An update from Lille's official Twitter account on Sunday said: "Six people are still hospitalised this Sunday morning, but the news is reassuring. Come back to us soon in good health."
Amiens v Lille is seen a derby, with about 98km (61 miles) separating the two sides.
Amiens are competing in the French top flight for the first time in their 116-year history. Their 12,000-capacity Stade de la Licorne is the smallest of the 20 Ligue 1 clubs.
L'Equipe reported that club president Bernard Joannin had blamed Lille's supporters for the incident and said: "Police had warned us that 200 highly agitated ultras were in the section of the stadium allocated to Lille supporters."
Lille chief executive Marc Ingla responded on Twitter saying: "The statement from Amiens' president is irresponsible and inflammatory in the context of this situation.
"We hope the LFP (Ligue de Football Professionnel) identifies those responsible. Our supporters are impeccable and professional football needs to be better organised.
"The club has the right to ask questions about the security arrangements and conditions imposed on our supporters at Amiens' stadium."
The LFP, which runs the top two divisions in France, said the decision to stop the match was taken after an emergency meeting involving the league's match delegate, the presidents of the two clubs and the chief of police.
The league also "expressed solidarity" with the victims and their families.
In a statement, the French Football Federation's president, Noel Le Graet, said it would wait for a final report from authorities on the incident and that "caring for the victims is the absolute priority before attempting to shed light on the circumstances of this accident".
Amiens said in a statement: "Amiens and its leadership wants to express its solidarity with the injured Lille supports and their family and assure that their health is more important than anything else."