Barcelona president Josep Maria Bartomeu defends playing behind closed doors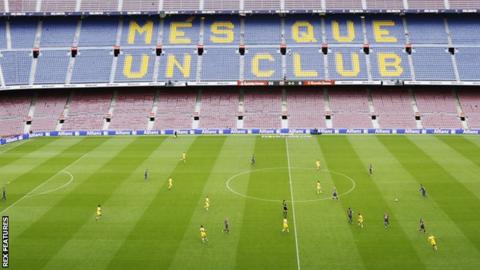 Barcelona president Josep Maria Bartomeu has defended playing Sunday's match against Las Palmas behind closed doors, describing it as "one of the most difficult decisions I've made".
Barca won 3-0 at an empty Nou Camp after a request to have the game postponed, amid widespread political unrest in Catalonia, was turned down.
Barcelona could have faced a six-point penalty had they chosen not to play.
On Tuesday Barcelona players and staff will join a strike across Catalonia.
Players and staff at the region's two other La Liga clubs, Espanyol and Girona, will also take part in the general strike, which will not affect any games because it is taking place during the international break.
"FC Barcelona joins the country-wide strike called for by the Table for Democracy and therefore the club will be closed," Barcelona tweeted.
About 850 people were injured in clashes with police at the weekend as Catalonia residents voted in an independence referendum which had been declared illegal by the Spanish government.
Bartomeu confirmed two directors, vice-president Carles Vilarrubi and Jordi Mones, had resigned following an extraordinary general meeting on Monday.
Bartomeu said: "We very seriously considered the option of postponing the game, but we could not get the Liga de Futbol Profesional to approve our request.
"Having reached that point, I decided to play behind closed doors because we believed that the image of a football match being played in a completely empty Nou Camp would have been an act of responsibility and would have been a way of showing how we utterly reject the exceptional and inadmissible situation going on around Catalonia."
Former Barcelona manager Pep Guardiola criticised the decision to play.
Guardiola, now Manchester City boss, told Catalunya Radio and RAC1: "I wouldn't have played the Barca-Las Palmas game, not at all.
"And if it did have to be played, then not behind closed doors. You do it with the public there. With all the consequences."
Catalonia, a region of 7.5 million people in north-eastern Spain, has its own language and culture and Barcelona is its capital.
It also has a high degree of autonomy, but is not recognised as a separate nation under the Spanish constitution.