Sean Dyche: Burnley boss could replace Arsene Wenger at Arsenal - Ian Wright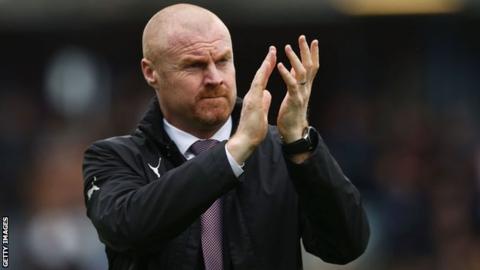 Burnley manager Sean Dyche is capable of replacing Arsene Wenger at Arsenal, says former Gunners striker Ian Wright.
Dyche's side beat Everton 1-0 at Goodison Park on Sunday to move up to sixth in the Premier League table.
But Wright thinks Arsenal and other top clubs will not take a chance on the 46-year-old, and predicts Dyche will be "pushed" into taking the England job.
"I believe he is somebody that needs to go, at some stage, to the next level," he told BBC Radio 5 live.
That would be a "club who can play in Europe on a regular basis", added Wright, who also suggested Everton would be a good stepping stone for Dyche, who has twice won promotion to the top flight with the Clarets.
The former England international, 53, has been vocal in his criticism of Wenger, saying the club was in "crisis from top to bottom" after their 4-0 defeat by Liverpool in August.
Asked by Monday Night Club host Mark Chapman if he would take Dyche as a replacement for the Frenchman, Wright said: "Yeah. The fact is would they give Sean Dyche that job?
"In respect to how his team sets up when they're defending, he's obviously got acumen - but will he get a job like that? I don't think he will."
'Dyche has attributes to manage top club'
Burnley shocked champions Chelsea at Stamford Bridge with a 3-2 win on the first day of the season and have also taken points at Liverpool and Tottenham.
Stoke midfielder Charlie Adam says the former Watford boss has "earned his right to manage one of the big clubs".
"Maybe some of these superstars need someone like him to come in and have a go," Adam told the Monday Night Club. "If he's got the right attributes he can coach anybody.
"He's an experienced manager in the Premier League. He's done his groundwork with relatively smaller teams and got them set up well.
"He's got the attributes to manage one of the top clubs. If Arsenal want him they should take him."
However, Wright - who scored 185 goals for Arsenal - says Dyche is more likely to be pushed into a role with the national team.
"They'll probably start touting him for the England job," he said.
"We're so bereft of any manager that's good enough, that can take on the England job. If he carries on like he is he'll probably be pushed into that role."
Defender Phil Bardsley joined Burnley from Stoke in the summer and says Dyche has "great ambitions" for the Turf Moor club.
"The training is really intense, everyone is fighting for places and the competition is fantastic," said Bardsley, 32.
"That's what you need if you are going to be a successful team. The manager is really professional, even in the warm-ups and in his strategy to get the best out of each other.
"We're good at the basics and we mix our play up. We like to get it forward but we can also play. We are a strong team, very organised - a great dressing room, a great group of lads to be working with every day."
'Everton can't compete for top six'
Bardsley said Burnley knew Everton were short of confidence before the Clarets' 1-0 win at Goodison Park on Sunday.
Former England striker Wright believes the Toffees, who are 16th in the table, have not replaced Romelu Lukaku after the striker joined Manchester United for an initial £75m in the summer.
"They need to put 25 goals back into that side," he added. "They might be a little bit 'not at it' and then they get one through to Lukaku, who scores and settles everyone down. That's not happening at the minute."
Scotland midfielder Adam added: "I don't think they can compete for the top six.
"They paid £50m for Gylfi Sigurdsson from a side who struggled all season. Jordan Pickford was behind a defence that leaked I don't know how many goals, so his confidence is shot. Wayne Rooney is coming off the back of not really playing for Manchester United."
The 31-year-old said if Everton really want to compete they should have recruited a leading striker and a top quality central defender.
"Sign [Olivier] Giroud, sign a top centre half," he added. "If they feel they have the money and they're good enough, go and sign [Virgil] van Dijk."