Tony Vance: Guernsey FC's established players may struggle to return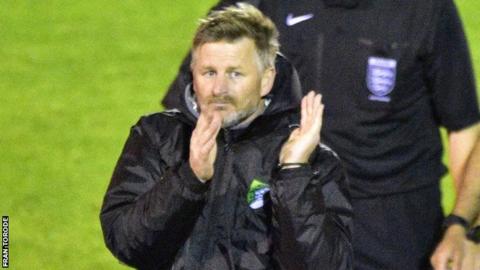 Guernsey FC manager Tony Vance has hinted his established players may struggle to reclaim places in the side.
The Green Lions have won their last two matches after losing eight in a row in Isthmian League Division One South.
Guernsey's 2-1 win at Faversham Town - their first away success this season - followed a 3-2 victory over Molesey to move off the bottom of the division.
"It's been a long time since I've been able to pick an away team and an away squad," Vance told BBC Radio Guernsey.
"If you look at the players back home, Simon Geall, Angus Mackay, Ryan-Zico Black, Glyn Dyer, the list goes on.
"I wrote down seven or eight really good players that should be playing and it's harsh on them, but these lads have kept the shirt and got themselves three points which is fantastic for the club."
Vance added: "It's important that we get that (type of performance) every game, and if we do, and maybe with a striker to help us out here and there as well, then there's no reason why we couldn't do better."