World Cup 2018: What are England boss Gareth Southgate's big challenges?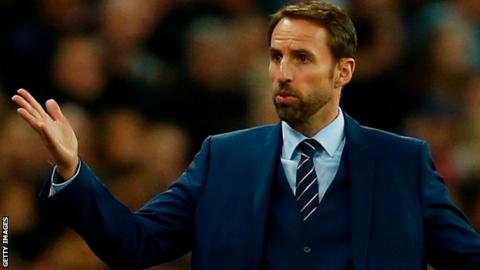 Gareth Southgate successfully completed phase one of his task since succeeding Sam Allardyce as England manager by qualifying for the 2018 World Cup.
England secured their place in Russia with a 1-0 victory over Slovenia at Wembley on Thursday, but it was a struggling, spluttering performance that only underlined the scale of the task facing Southgate if he is to end an almost unbroken tale of under-achievement at recent major tournaments.
Fabio Capello's England were thrashed 4-1 by Germany in the last 16 at the World Cup in South Africa in 2010 and his successor, Roy Hodgson, could not get England out of the group stage in Brazil four years later.
Hodgson lost to Italy on penalties in the last eight of Euro 2012 before the embarrassment of a last-16 defeat by Iceland at Euro 2016 was the catalyst for his resignation.
There was little fanfare, celebration or sense of expectation around a discontented Wembley as England limped over the finishing line on Thursday - only evidence that Southgate has a huge job to get his squad in shape for next summer.
So what are the big issues facing 47-year-old Southgate, who was officially placed in charge in November 2016 after Allardyce's 67-day reign, as he plans to end England's cycle of failure?
Stick with Hart in goal?
Joe Hart has been unchallenged as England's first-choice tournament keeper since Euro 2012 in Poland and Ukraine, but the 30-year-old is now facing the twin obstacles of declining form and increased competition.
Hart made crucial errors and had technical flaws exposed when conceding long-range goals to Gareth Bale against Wales and Iceland's decisive goal from Kolbeinn Sigthorsson - both low and to his left from distance - at Euro 2016 and endured a mixed spell on loan at Torino when Pep Guardiola decided he was not his man at Manchester City.
Now at West Ham, Hart came under further scrutiny when conceding free-kicks to Leigh Griffiths in the 2-2 draw with Scotland at Hampden Park in June.
Southgate surprised many with his staunch faith in Hart, who made his international debut in June 2008, when retaining him for qualifiers in Malta and at home to Slovakia, although he made an important double save before Harry Kane's late winner against Slovenia at Wembley on Thursday.
However, the return to form and fitness of Stoke's Jack Butland - out for more than a year after injuring an ankle playing for England in Germany - means the goalkeeping debate will continue.
With Jordan Pickford, who is only 23, a rare shaft of light in Everton's desperate start to the season after his £30m move from Sunderland, the debate is likely to be pored over on a weekly basis as England keep faith with Hart but also have the best back-up options they have enjoyed for years.
Southgate may be taking a history lesson when it comes to England changing keepers after the failed introduction of Scott Carson for the key Euro 2008 qualifier at home to Croatia and Rob Green's blunder that gave the United States a draw in the opening game of the 2010 World Cup.
Southgate's goalkeeping options
Since start of 2016-17 (league)
Joe Hart
Jack Butland
Fraser Forster
Tom Heaton*
Jordan Pickford
*Heaton is currently injured
Games played
44
12
45
39
36
Goals conceded
75
19
55
52
62
Saves made
119
37
100
149
156
Clean sheets
9
3
17
10
5
Errors leading to goals
5
0
2
0
3
Save %
61%
65%
64%
74%
72%
Former England pair Phil Neville and Chris Waddle believe Southgate has made the correct decision in sticking with Hart.
Neville tells BBC Sport: "Patience is the key and Gareth has got it absolutely right. If the first World Cup game was next week Joe Hart would be my number one.
"He'll want to protect his young goalkeepers. Pickford has got a lot on his plate to establish himself and have a full season at Everton. He's moved for a big price tag.
"Butland is only 24 and was out for a very long time with injury last year. It is a big season in terms of fitness. Can he play a full season? Has he got the durability?"
Waddle says: "Joe is in the driving seat unless he makes a couple of big mistakes.
"There are certain positions in the team where you need settled partnerships. You need your goalkeeper to know his back four well and his centre-halves. It is a problem when you are throwing people in before or during a tournament."
Former England defender Terry Butcher, who believes it is time for change, says: "If you have got someone with Jack Butland's presence behind you it gives even more confidence, but with Joe there have been mistakes.
"Joe has done very well for England but his time has come to an end now."
Southgate's instincts, for now at least, tell him to stick with Hart.
Can the centre of defence take the strain?
England's changing central defensive partnerships have always survived in relative comfort in qualifiers only to be picked apart in the heat of tournament combat.
Gary Cahill and Phil Jagielka were exposed by Luis Suarez and Edinson Cavani in defeat by Uruguay in Brazil in 2014, while Chelsea's captain and Chris Smalling fared no better in France two years later.
Will it be any different in Russia?
Southgate still has shuffling to do in this position, but some pointers are emerging that might signpost the way to his partnership next summer.
Cahill and Manchester United's rejuvenated Phil Jones have started to establish a partnership. although a glance towards Manchester City may offer an even more attractive option.
John Stones disappeared almost unnoticed from England's team after being heralded as the future of their defence following a £47.5m move from Everton to Manchester City in summer 2016. He is now showing the sort of form that might tempt Southgate once more.
Neville says: "If we are going into a major tournament in six or seven months' time and John Stones isn't our number one centre-back then he is not fulfilling his potential.
"In the World Cup, John Stones has got to be our number one centre-back. That is if he performs - he has to produce the qualities we know he has got and if he does he will start as number one centre-back probably alongside Phil Jones."
Waddle, however, has an interesting twist and potential for left-field experimentation. He says: "Have we got the quality of defenders to cope with the top sides? At the minute it is a concern.
"I'd like to see Kyle Walker play a game in central defence. He's quick. He's strong. He's good in the air and he's got unbelievable energy.
"A lot of people say you'll miss him on the flank but you've still got people like Nathaniel Clyne when he hopefully gets fit again at Liverpool and Kieran Trippier at Spurs.
"It would be really interesting if you put Stones, Walker and another in there as an experiment.
"You could play Stones, Walker and Eric Dier. Decent on the ball, mobility, and you have Walker's raw pace as well."
Will lack of midfield creativity dent England's chances?
England's central midfield combinations are workmanlike but lack players in the mould of Steven Gerrard, Frank Lampard and Paul Scholes - the pass master who can make a difference.
It will prove a serious handicap in Russia if England struggle to serve the most potent part of their team, with Harry Kane up front and Dele Alli in behind.
It is not helped by a lack of contenders to play the role of finding the key to unlocking opposition defences.
"The biggest talking point in Southgate's team is in central midfield," says Neville.
"It is crying out for a creative player. Could it be Jordan Henderson, Eric Dier and Adam Lallana when he's fit? There is a space in midfield. There is a position on the right-hand side and in central midfield."
England's central midfield will be resolute in Russia, but where is the inspiration and creation?
"Sometimes you need someone with a variation of pass. England have players who can get it and give it," says Waddle.
"I don't think people like Jordan Henderson have played badly but sometimes you need someone who can get the ball off the back three or four and can just turn and see someone 40 or 50 yards away.
"The only two who come to mind at the minute who hit that sort of pass are Danny Drinkwater and Jonjo Shelvey. Henderson is very good at linking the play with simple football, as are Dier and Jake Livermore. Lallana is give-and-go, not a 30- or 40-yard passer.
"I know what people can say: Drinkwater might not get in Chelsea's team and Shelvey can let himself down but they can hit those passes.
"People like Shelvey and Drinkwater are maybe not everyone's cup of tea but you have to look at a system and balance. You shouldn't just pick the best English players at the top clubs."
Shelvey has created the most chances of England's midfield contenders since the start of last season, although he was playing in the Championship for Newcastle in 2016-17.
Who are England's World Cup match-winners?
England have a striker close to world class in Harry Kane - and there are reasons for optimism if Southgate can find a way to serve a potentially deadly attack.
Dele Alli has proved his quality, if not his temperament, for Spurs and England, while Manchester United's Marcus Rashford looks increasingly like a certain starter in Russia.
Where are the goals coming from?
Since Gary Lineker scored 10 goals in two World Cups (1986, 1990) no England player has scored more than twice at the tournament
The current England squad has scored 60 goals between them. Harry Kane and Jermain Defoe are responsible for 31 of those
So are there reasons for England to be cheerful heading into the 2018 World Cup after the trauma of recent major tournaments?
The Kane-Alli axis will carry England's threat, according to Waddle. "Kane just doesn't seem to miss. He is in the right position every time and you can't coach that," he says.
"You have to play Dele Alli with him. Now we have to look at how to get the best out of those players and build a team around them.
"Alli is a cert. He plays with Kane week in and week out. He makes a lot of his goals for him and they have a great partnership."
England's World Cup wins
2014: None
2010: Slovenia (1-0)
2006: Paraguay (1-0), Trinidad & Tobago (2-0), Ecuador (1-0)
2002: Argentina (1-0), Denmark (3-0)
1998: Tunisia (2-0), Colombia (2-0)
Phil Neville looks towards his former home of Old Trafford for the forward Southgate should integrate alongside Kane and Alli.
"Fast forward seven months and you have got to be saying Rashford should be in there", says Neville.
"If Gareth can find a system for both Rashford and Kane then that would be as exciting a partnership as most teams could offer going forward.
"Kane is at that level now where he is becoming a world-class centre-forward and Rashford has got the potential to be there if he keeps developing.
"Rashford is going to be a superstar - I've said it a million times; I really believe that. You can see him, Kane and Dele Alli producing."
If Southgate can use England's forthcoming friendlies to forge a link between that trio, he and his squad can carry serious danger in Russia next summer.
Should Kane be England's World Cup captain?
Outsiders - even then England manager Fabio Capello - never understand the nation's obsession with who leads the team out.
However, it still matters and it seems Southgate has narrowed it down to a choice between Kane and Henderson, who have both had auditions during the World Cup qualifiers.
Kane captained the team against Slovakia. He has the advantage of being a certain starter, a goalscoring inspiration and a role model on and off the field, while Henderson may need to fight for his place.
Neville is certain who it should not be. He says: "I've never been a fan of centre-forwards being captain - they are under enough pressure to score goals as it is. I would just say to Harry Kane, 'You just concentrate on scoring goals.'
"I'd give it someone like Jordan Henderson, or Eric Dier could be a real outside chance if he cements his place in the team."
Butcher has a different view. "There is only one person for me and that is the person who is going to play on a regular basis and that is Harry Kane," he says. "He is the poster boy but he is also producing the goods.
"He is one of the first, if not the first, name on the team sheet. You couldn't say that about Jordan Henderson.
"You can't argue with Kane's record or the way he goes about his work. He is a lethal striker but an absolute gentleman off the pitch."
My England starting XI
Choose who you would pick in the England starting XI in Russia - and then share it with your friends using our team selector.