Guernsey FC lose 3-0 at home to Lewes in Isthmian League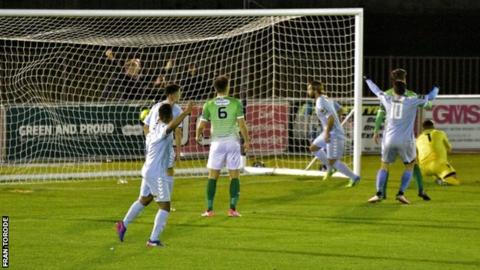 Guernsey FC's recent upturn in form came to an end when they were beaten 3-0 by Isthmian League Division One South leaders Lewes at Footes Lane.
Billy Medlock gave the visitors the lead after 15 minutes and doubled the tally after half an hour before Bouwa Bosma's strike made it 3-0 shortly before half-time.
"I think we made a good side look even better," manager Tony Vance said.
"In the first half, apart from the first 15 minutes they blitzed us."
The loss came after two successive victories for the Green Lions and saw them drop to 20th place in the table.
"We've been beaten by a good side and deservedly so, there's no shame in that," added Vance. "We could have gone down fighting a little bit better.
"They're going to go up with the resources they've got and the situation they've got, so the three goals probably represent where we are in the league and where they are."