Ross Allen: Guernsey FC striker will not 'walk back into team' says boss Tony Vance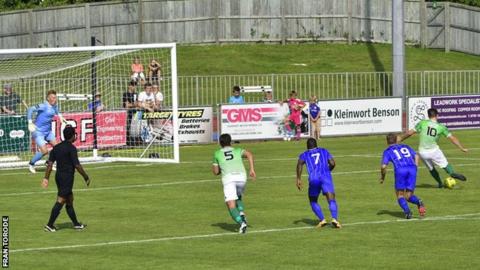 Guernsey FC manager Tony Vance says record goalscorer Ross Allen will not 'walk straight back into the team' having returned to training.
The 30-year-old has scored 231 goals in 219 games for the Green Lions, but was away for the whole of September.
Guernsey, who have won just three times this season, were beaten 3-0 by Lewes on Wednesday with Allen looking on.
"Everyone has to earn their shirt, Ross went away for a while, we now know he's back," Vance told BBC Radio Guernsey.
Guernsey have had a difficult start to the season in Isthmian League Division One South, losing eight games in succession before winning two of their last three matches.
"He's a very good player, but you can't just come back in like that," added Vance.
"These lads had won two games in-a-row, I've thrown done the gauntlet for them to fight for shirts and yes Ross Allen's a fantastic player, but if he goes and walks straight back in just like that it's a bit unfair on the other lads."