England women: FA advertising for a new head coach who can 'win 2023 World Cup'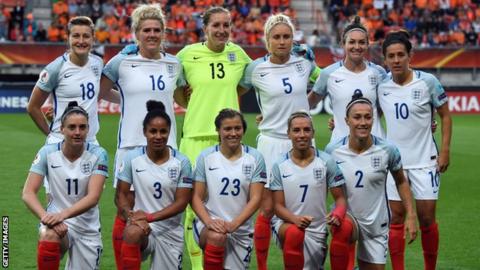 England women's new manager will be tasked with "winning the World Cup in 2023" and must be willing to "undergo background screening", according to the Football Association's job advert.
The FA is looking for a permanent replacement for Welshman Mark Sampson.
The 34-year-old was dismissed last month after evidence of "inappropriate and unacceptable" behaviour with female players in a previous role.
Applications are open until 17 October.
The FA has been heavily criticised over their handling of the Sampson affair, with Minister for Sport Tracey Crouch labelling the situation a "mess".
MP Damian Collins, who chairs the Digital, Culture, Media and Sport Committee, also questioned why it took so long for the FA to look into Sampson's behaviour.
Last week, former England captain Mo Marley was named as interim manager and will take charge of England's next three matches.
But the FA has now launched its recruitment process for a permanent head coach, who it says can create a team culture where "every player knows what is expected of them".
The salary? 'Competitive'
For candidates "willing to undertake background screening as part of the recruitment process", a competitive salary is on offer for the role.
Applicants will also need to be able to work closely with individual players and "create development plans based on their different needs".
The successful coach will be required to select their squad using "robust data and judgement".
Before his dismissal, Sampson was this year cleared of wrongdoing following discrimination allegations made by England players, including Chelsea and England striker Eniola Aluko.
Aluko, 30, accused Sampson of making a "racist comment" about her family, and said she suffered "victimisation as a result of me reporting discrimination".
She has been invited to appear in front of the Digital, Culture, Media and Sport select committee on 18 October along with FA boss Martin Glenn, chairman Greg Clarke and technical director Dan Ashworth, who helped appoint Sampson.
But earlier this week Clarke moved to make a distinction between the two cases.
"Just because a safeguarding inquiry reveals some evidence, and that evidence leads us to believe we couldn't continue to employ Mark Sampson in a senior leadership coaching role for the FA, it doesn't mean he's guilty of racism or bullying," he said.
"That's a separate inquiry. It will come to a conclusion. It will be transparent. It will be shared."
You can now add WSL 1 notifications for line-ups, goals, kick-off, half-time and results in the BBC Sport app. Visit this page to find out how to sign-up.