Eastleigh to reimburse Chester and fans after postponement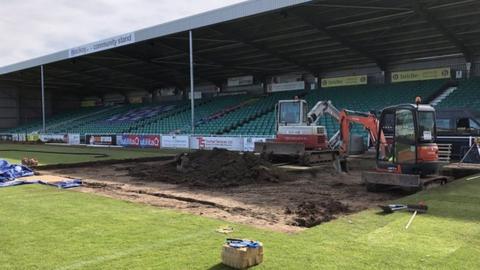 Eastleigh will reimburse Chester and their travelling supporters after their National League fixture last month was postponed because of an unfit pitch.
The sides were due to play at the Silverlake Stadium on Saturday, 30 September but referee Savvas Yianni called it off at 12:45 BST.
Work to relay the troubled section of Eastleigh's pitch has begun.
The surface also caused a delay to their match against Dagenham, and the postponement of two pre-season matches.
Following conversations with the National League, the FA and both clubs, Chester's own and subsidised supporters' travel costs for the original scheduled fixture will be met by Eastleigh.
An additional sum has also been agreed by Eastleigh, aimed at covering costs incurred by Chester fans who travelled to the match independently.
Any fans wishing to make a claim have been advised to contact Chester directly, while Eastleigh will grant their fans free entry when the match is rearranged.