Iceland success comes from team spirit, says Gudni Bergsson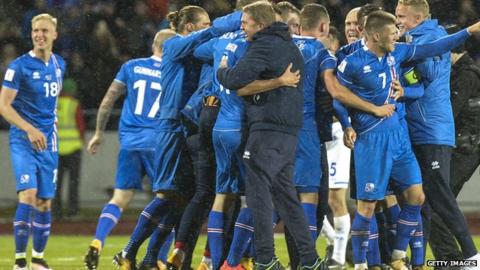 Iceland's success at becoming the smallest nation to ever qualify for the World Cup is down to "good team spirit and understanding", according to the president of their FA Gudni Bergsson.
The country, which has a population of just 335,000 people, topped Group I with a 2-0 win over Kosovo on Monday.
"We all enjoy it when smaller teams have success," said the ex-Bolton man.
"The team is well organised and difficult to break down, which is why they are producing these results."
Several giants of the world game are struggling for qualification for the World Cup with three-time runners up the Netherlands all but out, while Portugal and Switzerland face a huge match to see who finishes top of European qualifying Group B on Tuesday night.
Meanwhile, Argentina and star player Lionel Messi are in trouble in South American qualifying and look like they need a need a win at altitude in Ecuador in the early hours of Wednesday morning - and even that might only be enough to earn a play-off spot.
Home nations Wales and Scotland have both failed to qualify, while the Republic of Ireland and Northern Ireland must go through the play-offs.
Iceland made it to the quarter-finals at Euro 2016 in France having beaten England and secured a draw with eventual winners Portugal in the group stages.
And Bergsson, who made 319 appearances for Bolton and 88 for Spurs before retiring to become a lawyer in his home country, said the whole of Iceland is now in "party mood".
"It is incredible for us to qualify for the World Cup. Everybody here is absolutely thrilled and it is a great experience for us," he told BBC Sport.
"The players have done so fantastically well.
"This generation of players have played together for a long time and have created a good team spirit and understanding between themselves.
"I think our fans were excellent at the Euros - that spirit came across to the general public of football fans.
"We appreciate that people want us to do well and we hope we can repay their support in Russia at the World Cup."