Steven Naismith: Disappointment over failed campaign, sorrow as Gordon Strachan exits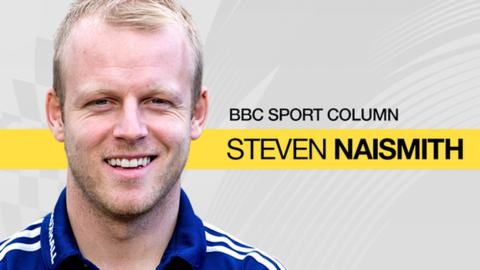 For me, Gordon Strachan's departure is disappointing. Through the whole time he was the manager, he instilled a lot of very good points within the squad, with not filling the players with too much information; making how he wants you to play in certain games and doing things like that pretty clear and straightforward.
There weren't many grey areas. He always gave you the feeling that he trusted you and wanted your opinion on things. That brings a good environment to work in. Ultimately, the two failures to make the competitions has been the deciding factor. But I think, he as a manager was realistic - he looked at this campaign as one we could get through, at least to the play-offs.
With us not making it, there was always going to be a big decision.
When the campaign finished and after the game on Sunday, I felt he wasn't going to continue. I felt he was going to decide 'I've had enough'. Obviously, between himself and the SFA, that's the conclusion they've come to.
It's totally different being the Scotland manager. I can understand how the manager picks one player over another, because there are so many different variables in terms of making that selection.
It's all well and good saying 'x player is doing brilliant in this week' but it's a totally different kettle of fish when you're playing international football, and everything that goes with it.
We were one game away this time [from a play-off place] and it's been very small margins, especially in the last two campaigns.
Failing to reach the World Cup play-offs has been the biggest disappointment of my time with the Scotland squad.
We were down to the last game of the campaign, away to Slovenia. If we get the win, then it's in our hands. But we draw 2-2.
It's the hope that kills you.
The start of the campaign didn't get off too well and everything was doom and gloom but then we picked up some big results. The home win against Slovenia was the turning point, the England performance gives you a boost and then you've got real hope.
In the first 20 minutes against Slovenia we were comfortable, we looked like a decent team who knew what was at stake. You think, 'we're on our way'.
To get the first goal, you think the boys have got over that hurdle, but we ended up sitting too deep.
Slovenia have a decent team that is well organised. I noticed nearly every one of their players was comfortable taking the ball but their defence didn't look great.
They were slow to react but we didn't test them again. We sat in and held on to the lead rather than attack, attack, attack. If only we had been a bit braver.
A question of genetics?
I think a lot of it [Strachan's comments on Scotland being "genetically behind" other nations] was just pure frustration from him. I don't think that is the biggest issue we have as a country.
Some of the best football I've seen in my life was from the Spain and Barcelona teams where height was not an issue.
If you look at the domestic league and giving young players the opportunity, a decision gets made on young players in such a short period of time and you don't let them develop.
From the age of 12 until 17, when I made my debut, I'd say I was a slow developer. None of my attributes really stood out. Other players in my squad had more ability.
We need to find the right balance between giving young players first-team football and giving the guys who are developing later that chance to be a success, whether they come through at 16 or 20.
I said the other day: it's the hope that kills you in this campaign. It comes down to that last game, you take the lead in that game and you think 'this is it' and then it's snatched away from you.
That, for players, has got to be slightly embarrassing. Every other home nation, team-mates round about you, are making these play-offs and getting to these tournaments.
You're not even giving yourself a chance. These small margins… the manager can't do much else. When we go 1-0 up the other night, the manager can't stop the game and change it.
We're not far away from making at least a play-off - we just need to make better choices in games. Whoever takes over will have the best group of players since I've been involved.
To be honest, I don't [have a preferred potential successor]. I struggle to pick out a single candidate. At the moment there's not that one person, but the person who does take over will have a very good squad.
I would say we're maybe just a couple of positions, in terms of competition for places, short of maybe just making that wee bit of difference. We've got some great competition for places in a lot of areas in the park. Going forward, we can hopefully push on from these failures.
By ruling that out [going for a foreign coach] you're kind of limiting the amount of managers you can look at. But I wouldn't rule it out. Yes, we've had good and bad experiences in the past, but we need to look at everybody and take the right amount of time to make the right choice. We're not far away; we've got players who can win us games from nothing.
No sign of international retirement
I would never say I'm not going to play for Scotland again; competition for places is getting tougher, but I'll do all that I can.
You need to be doing well, first and foremost, with your club and you hopefully get selected for the national team. But, with every end of campaign and every change of manager, there's always going to be boys that think 'I've had enough' or 'I need to watch what I'm doing because I've had a few injuries'.
There will definitely be change within the squad, but I'll continue to try to make the squad and be part of the national team going forward.
Steven Naismith was speaking to BBC Scotland's Keir Murray and Alasdair Lamont